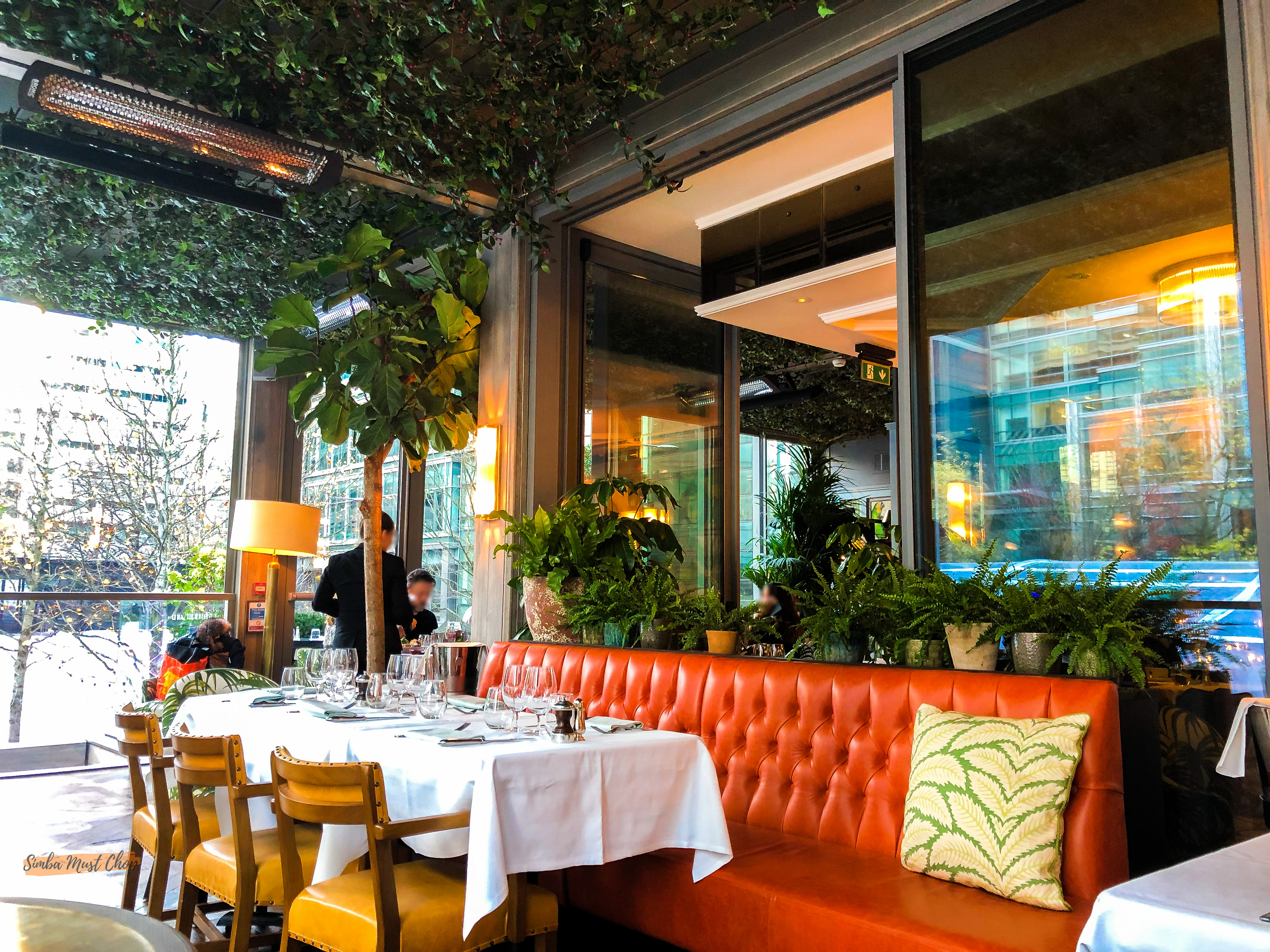 Feeling extra lazy to cook on a Sunday? Why not make it a Sunday fun day at the newly Opened The Ivy in the park. I did just that over the weekend and I had no regrets. 😀
The Ivy is a chain of restaurants nationwide and my favourite for a long time has been The Ivy Chelsea Garden, well that changed just a tiny little bit after visiting their latest opening at The Ivy in the Park in Canary Wharf on the 16th October 2018. I now have another favourite one. The Ivy in the park is an all-day casual dining restaurant situated in the heart of Canary wharf with a good surrounding especially the park that holds all sorts of seasonal events. For example during the winter(currently) a stunning Ice Rink is set up and guests at The Ivy get to have that view while dining. Please note: Views of the park vary depending on your allocated table.
However, whether you are insight of the park or not, the floral themed décor throughout the interior is bound to keep your mind off what you can or can't see on the outside of the restaurant. Speaking of outside, as you approach the entrance you walk passed their covered exterior dining terrace which also has a tropical theme (See in video footage here) and an additional open terrace on the first floor just as beautiful.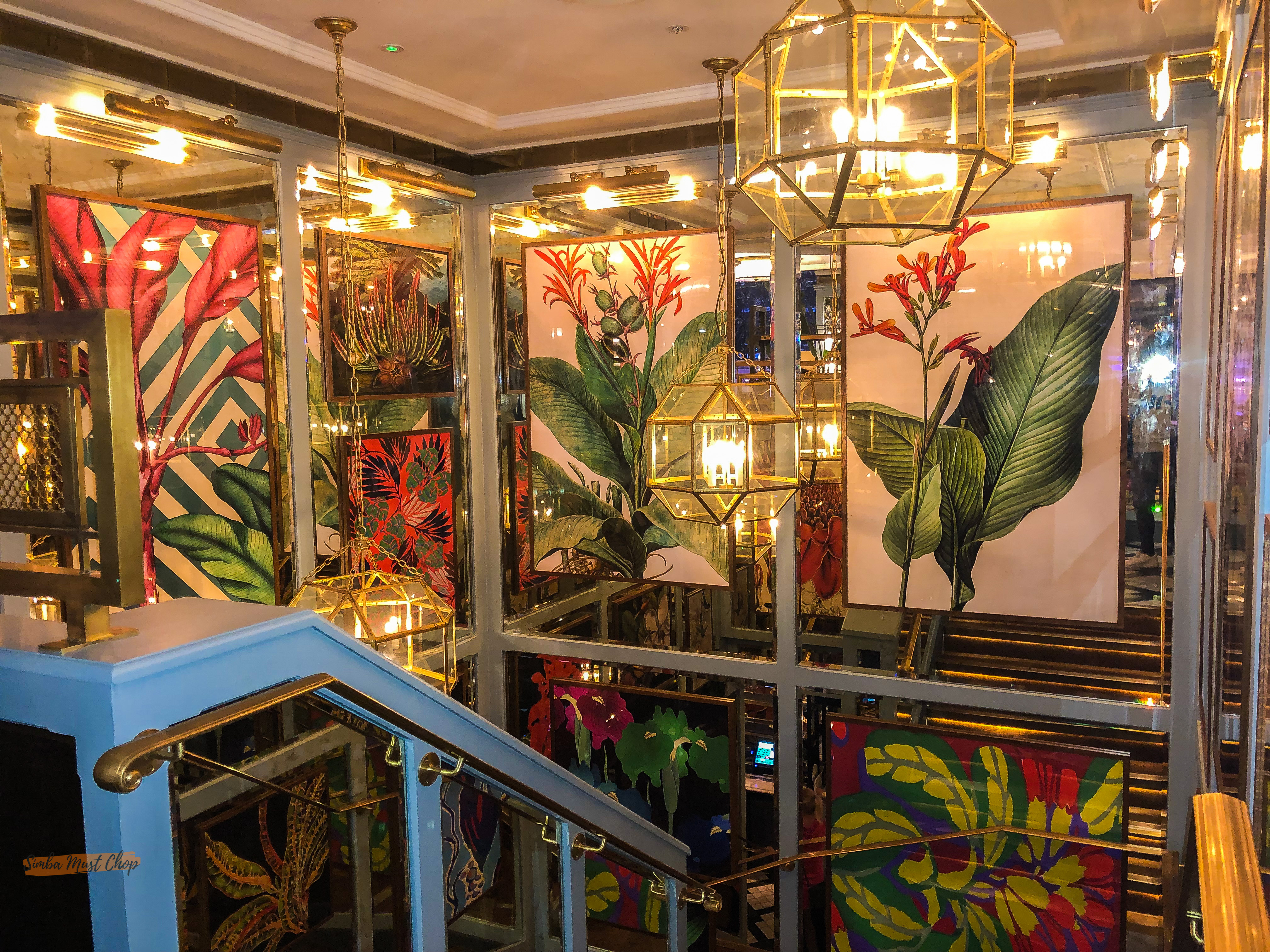 The Ivy opens from as early as 7:30am offers a contemporary British menu that ranges from breakfast through to lunch and dinner including light snacks and sandwiches as well as weekend brunch. So it's safe to say that they have something for everyone. 🙂
Since its opening this is my second visit and on both occasions it's been pleasant hence worth blogging about.
Below is a Video version of my visit for those of you that may prefer to see it all in motion. And for those who would like to continue reading the written review continues just below the Video. Enjoy. 😀
On my first visit I was lucky enough to have what was the last portion of the day of one of my favourite starters on their menu, the Truffle Arancini(Picture below). Unfortunately on my second visit these had runout. I was gutted but that didn't last long because I found a substitute on the menu 😀
Truffle Arancini (£5.50)
These are Fried Arborio rice balls with truffle cheese. Let me tell you this…..These rice balls are so F* good that I struggle to describe them 😀 The truffle aroma that hits your nostrils once they are placed on the table makes it hard taking a picture before digging in.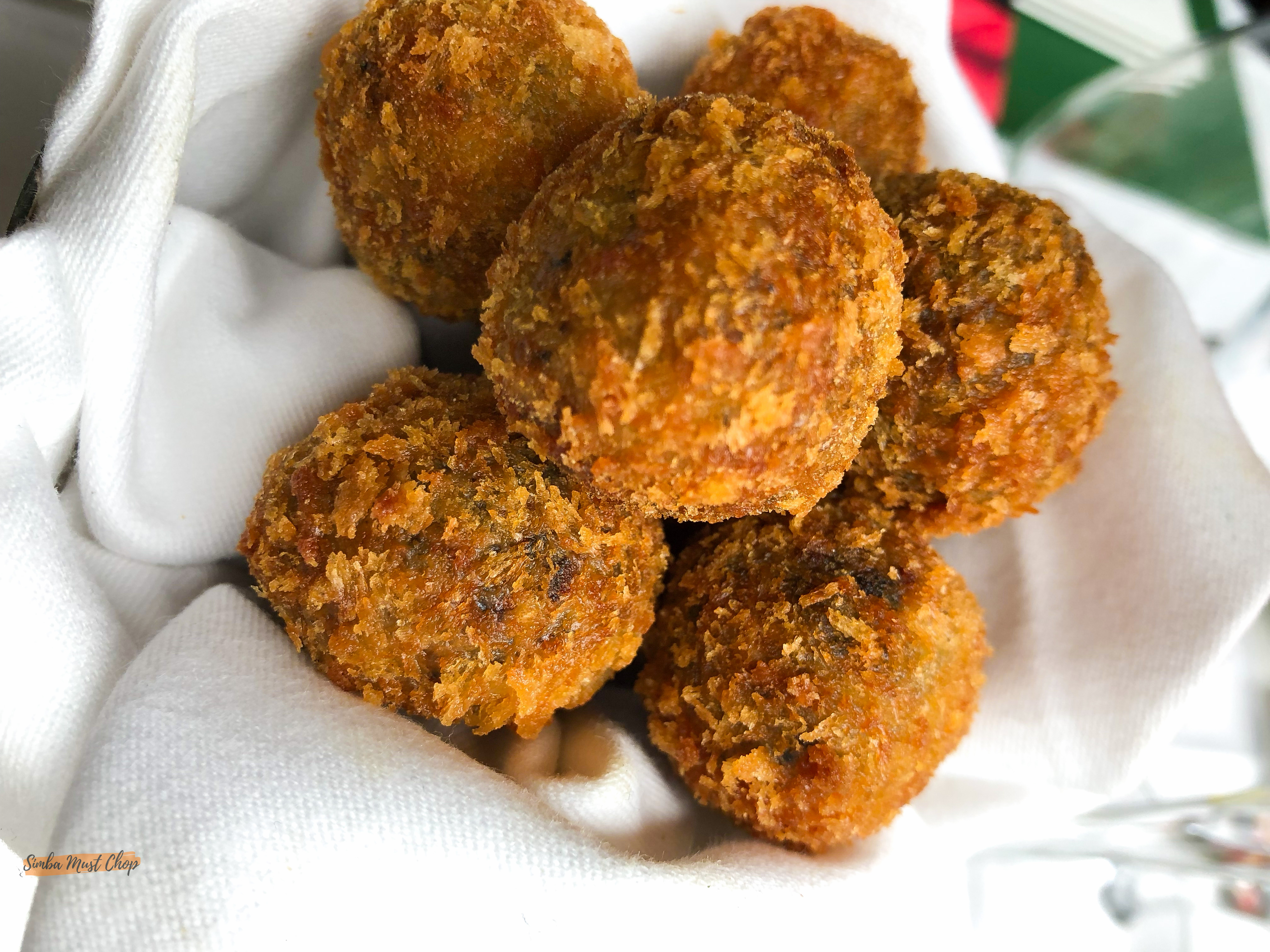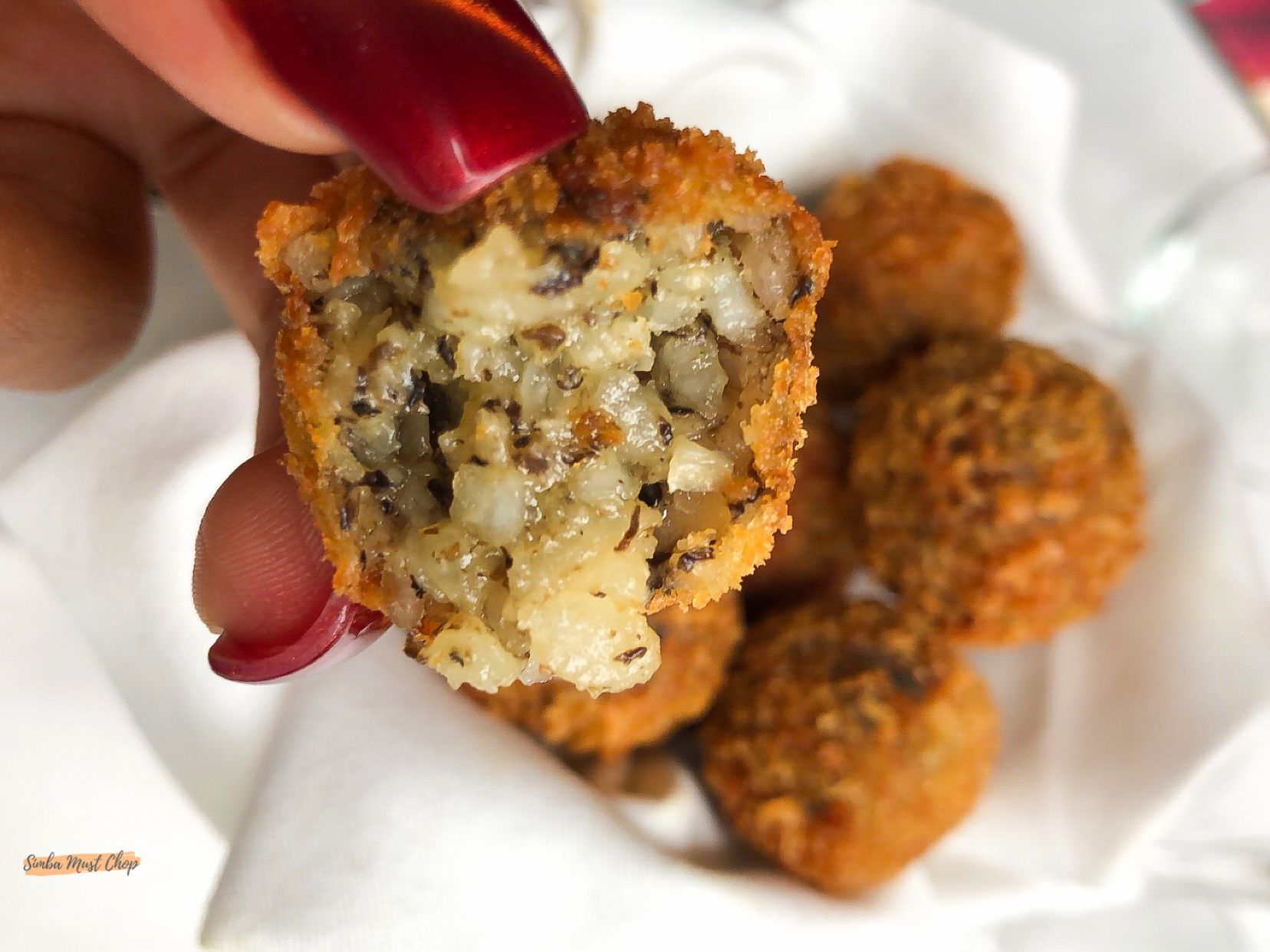 On their Fish & Seafood section of the menu, they have what they call 'Simply Grilled Fish' which is sourced daily making it their 'Fish special' of the day. On my first visit, I had their fish special of the day, the Simply Grilled Halibut (Picture Below)
Simply Grilled Halibut (£__)
Halibut with chimichuri & salsa sauce on the side, there was more fish than bones and for fish lovers this is "heaven". This chunky, soft and juice piece of fish was so delicious. When I poured the salsa sauce over it 'oh la la' I cleared it off the plate in no time. So next time I find it on the menu, there's no debates because I am having it again and you should too.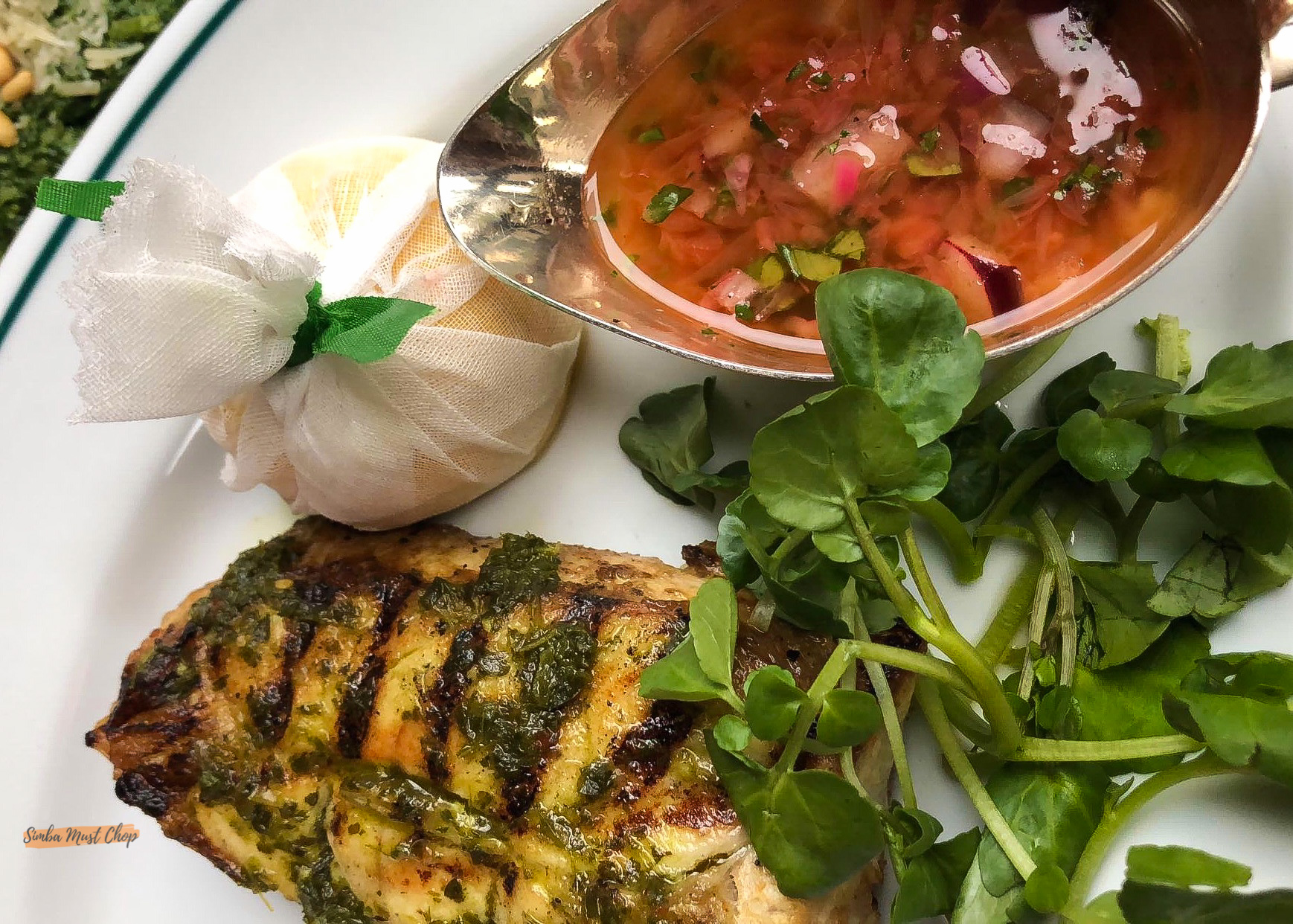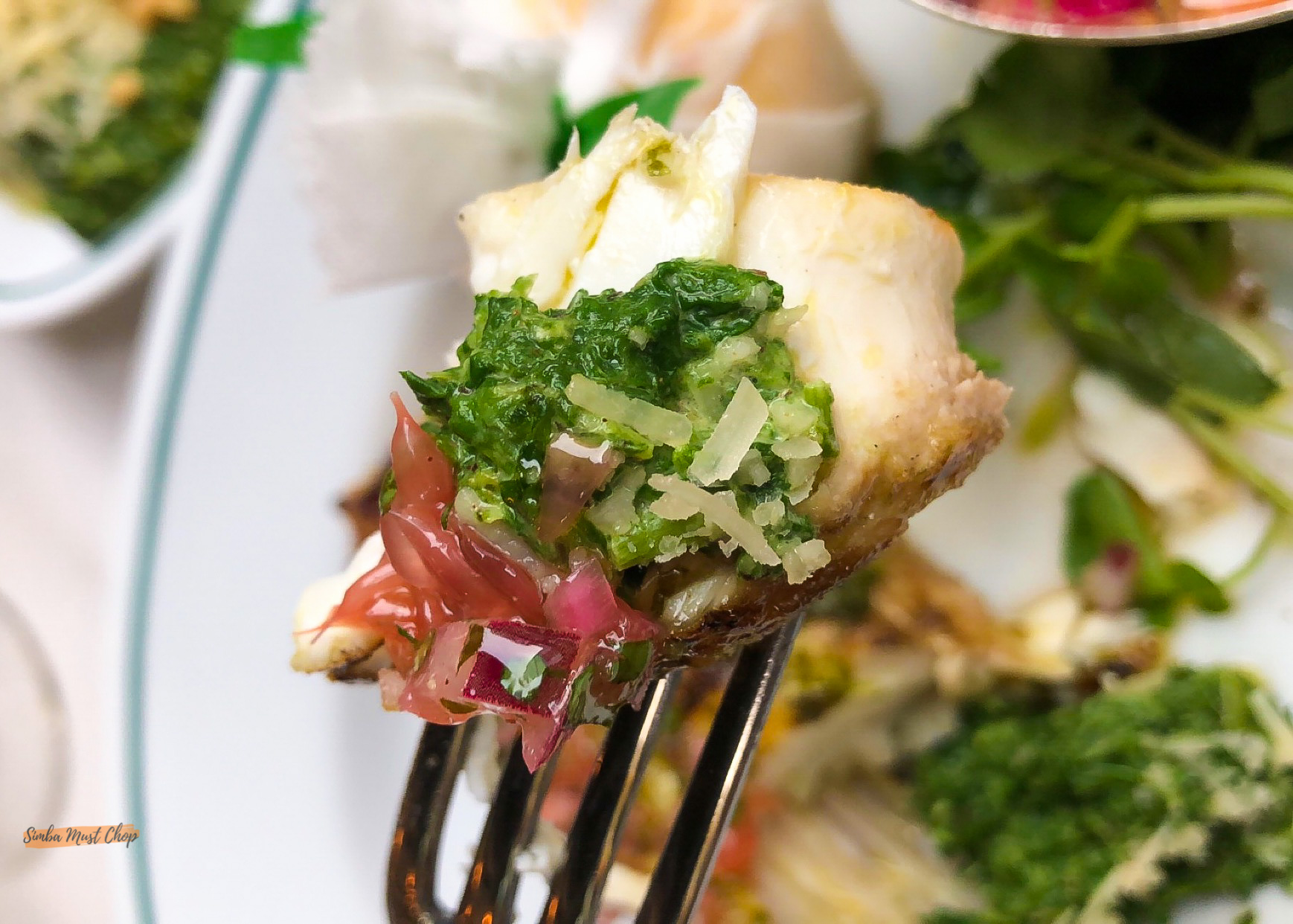 Fast forward to my most recent visit.
My companion and I planned to try out their brunch but somehow we managed to convince ourselves otherwise. ( This is what happens when there are so many options to choose from) We kicked it off with some drinking water followed with Wine, starters, mains and then DESSERT!
Drinks
Moscato d'Asti, Vietti 'Cascinetta (£6.75/100ml)
It's a sweet wine from Piedmont, Italy. Perfect for those who don't enjoy Dry Wines.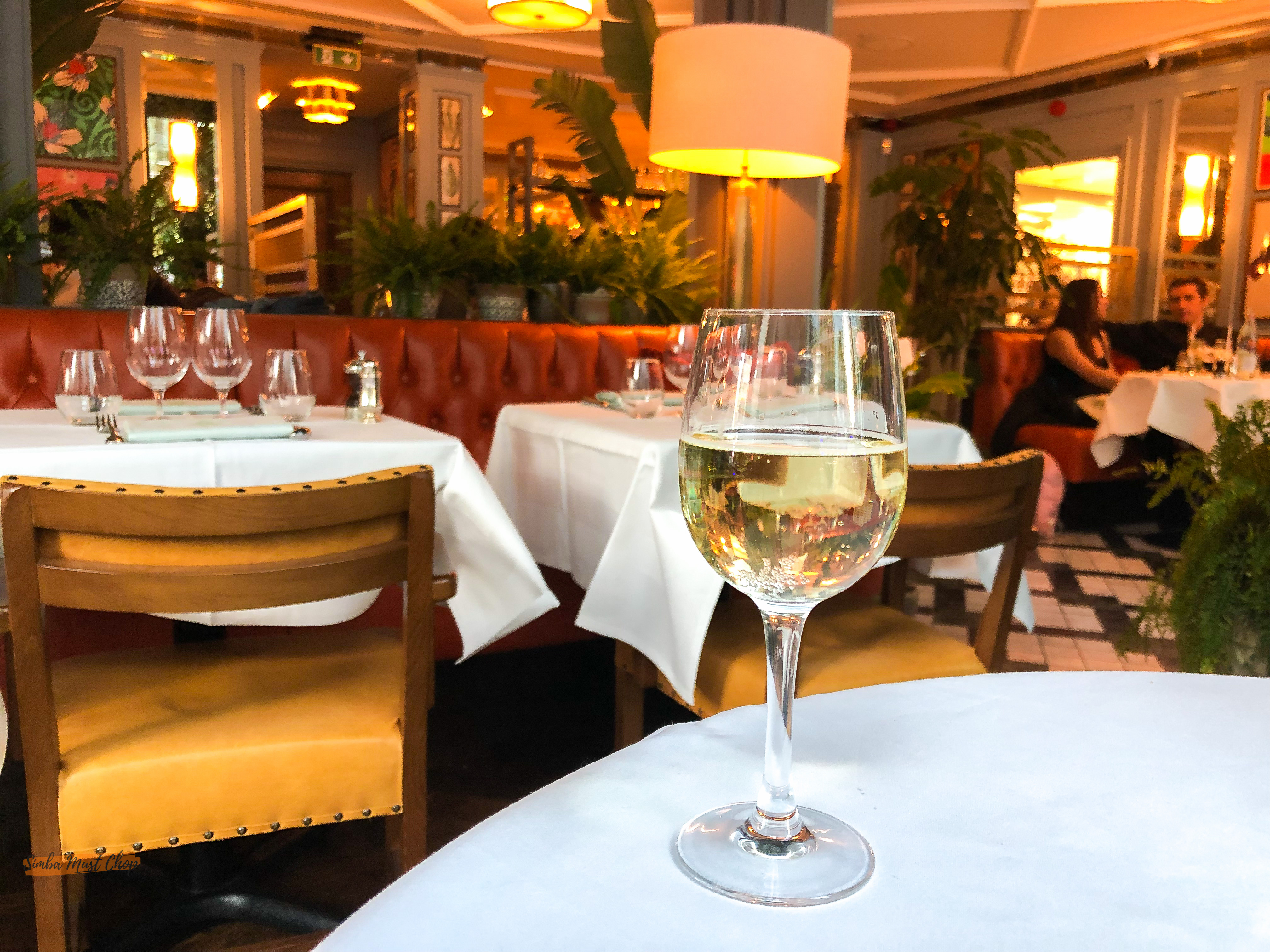 Starters
Crispy Dark Salad (£9.25)
It's a Warm crispy duck with five spice dressing, toasted cashews, watermelon, beansprouts, coriander and ginger. It was nicely crispy and full of flavour thanks to the five spice dressing. It does go cold easily so if you like it warm you may have to dig in straight way.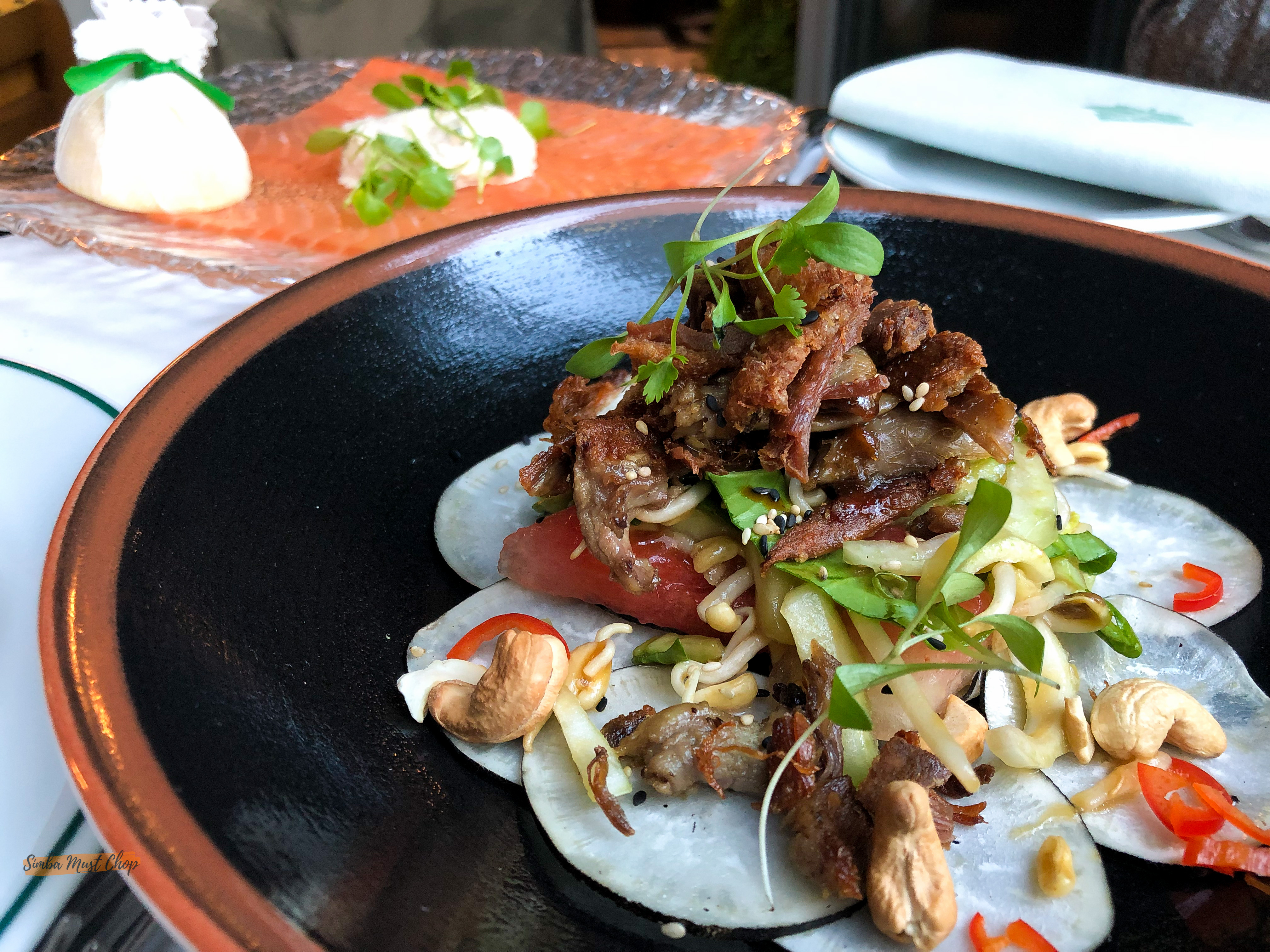 Truffled orzo pasta (£8.25)
This does look like rice but it is indeed baked truffle pasta with sautéed girolle mushrooms. To me this was my substitute of the Truffle Arancini that had run out. However, this starter was more filling. Besides that it is undoubtedly so delicious.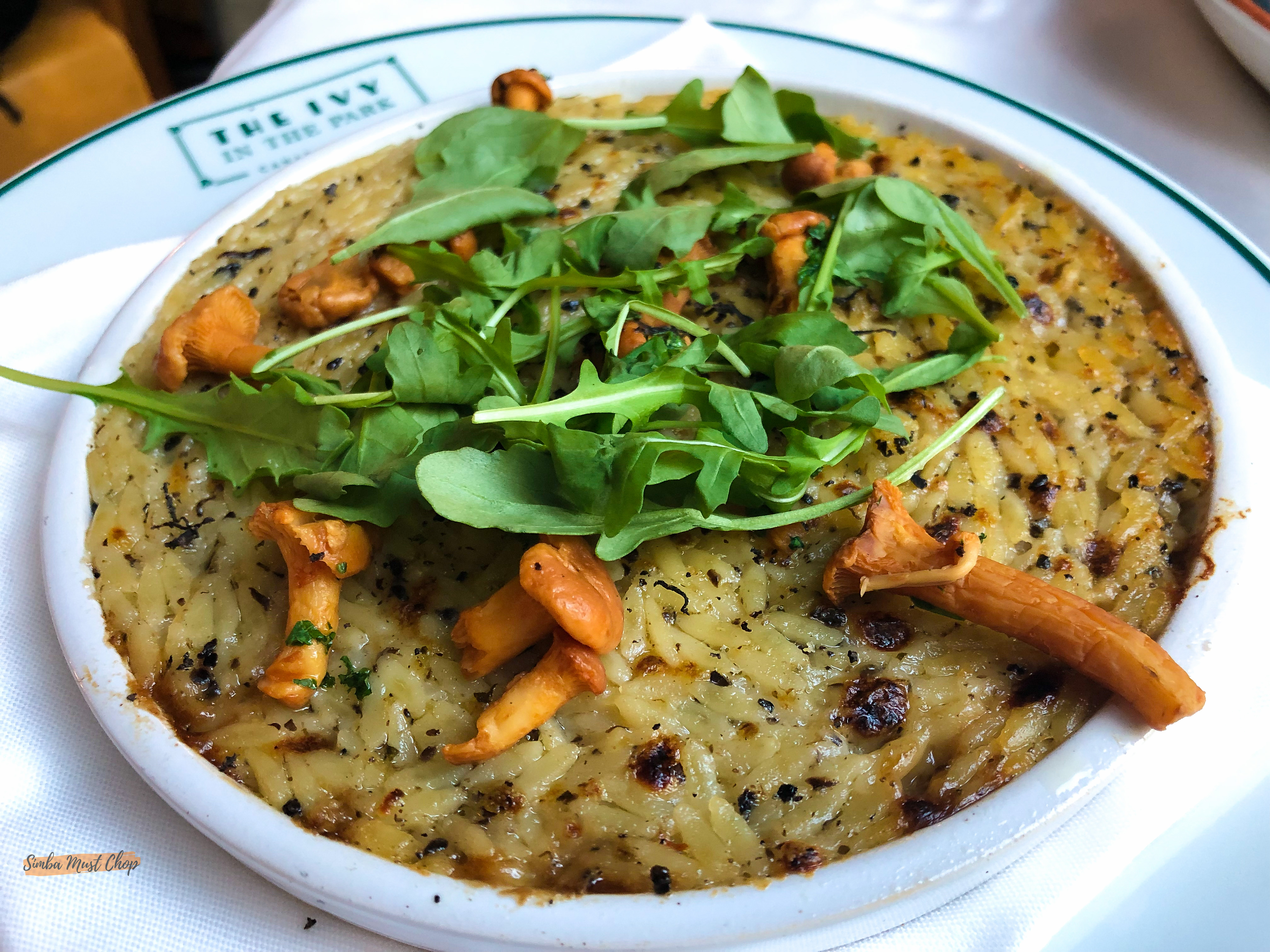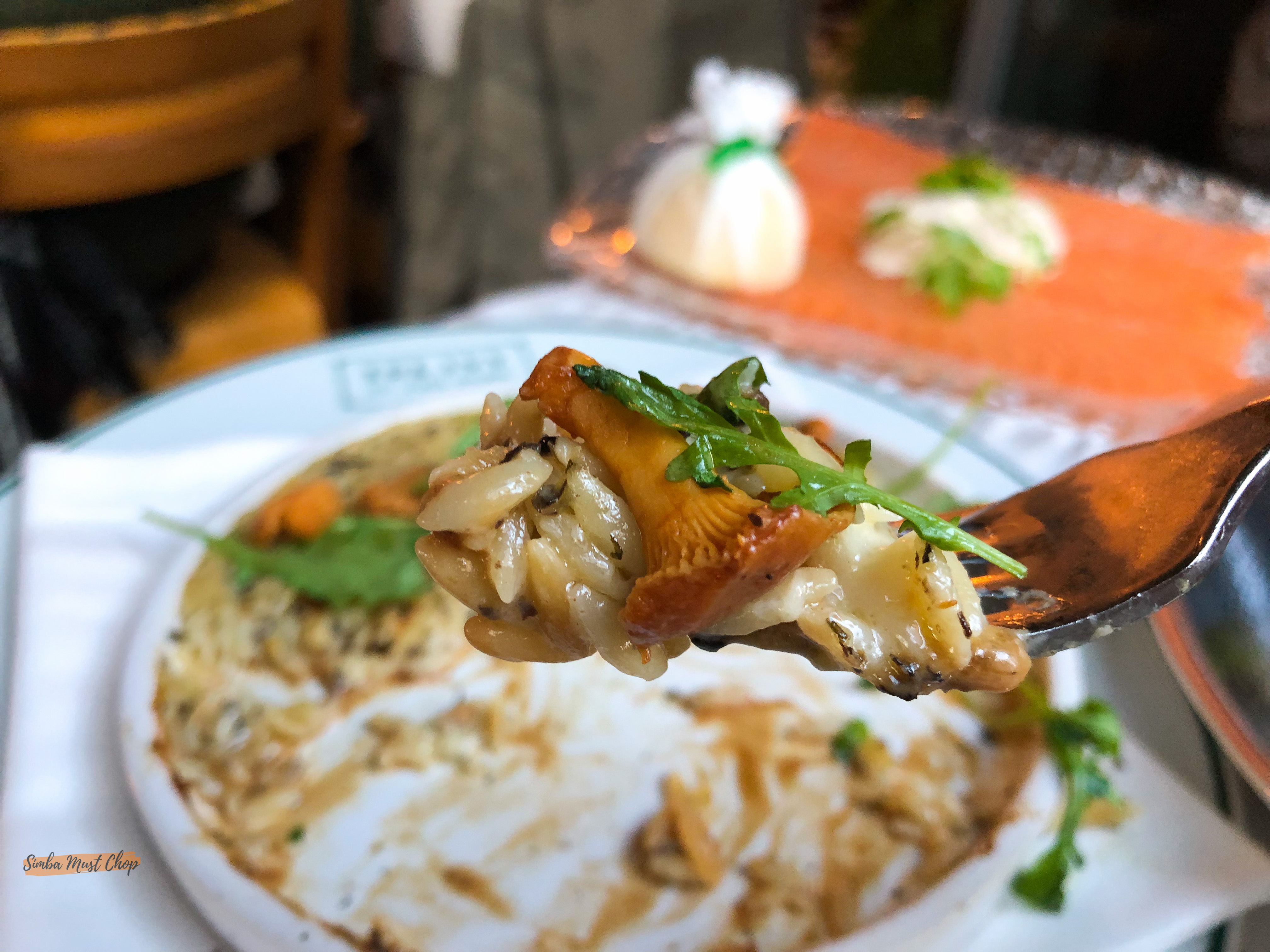 Oak smoked salmon (£9.75)
Seasoned with black pepper, lemon and served with dark rye bread. This was my companions starter which she enjoyed so much although I noticed that she didn't eat much of the dark rye bread.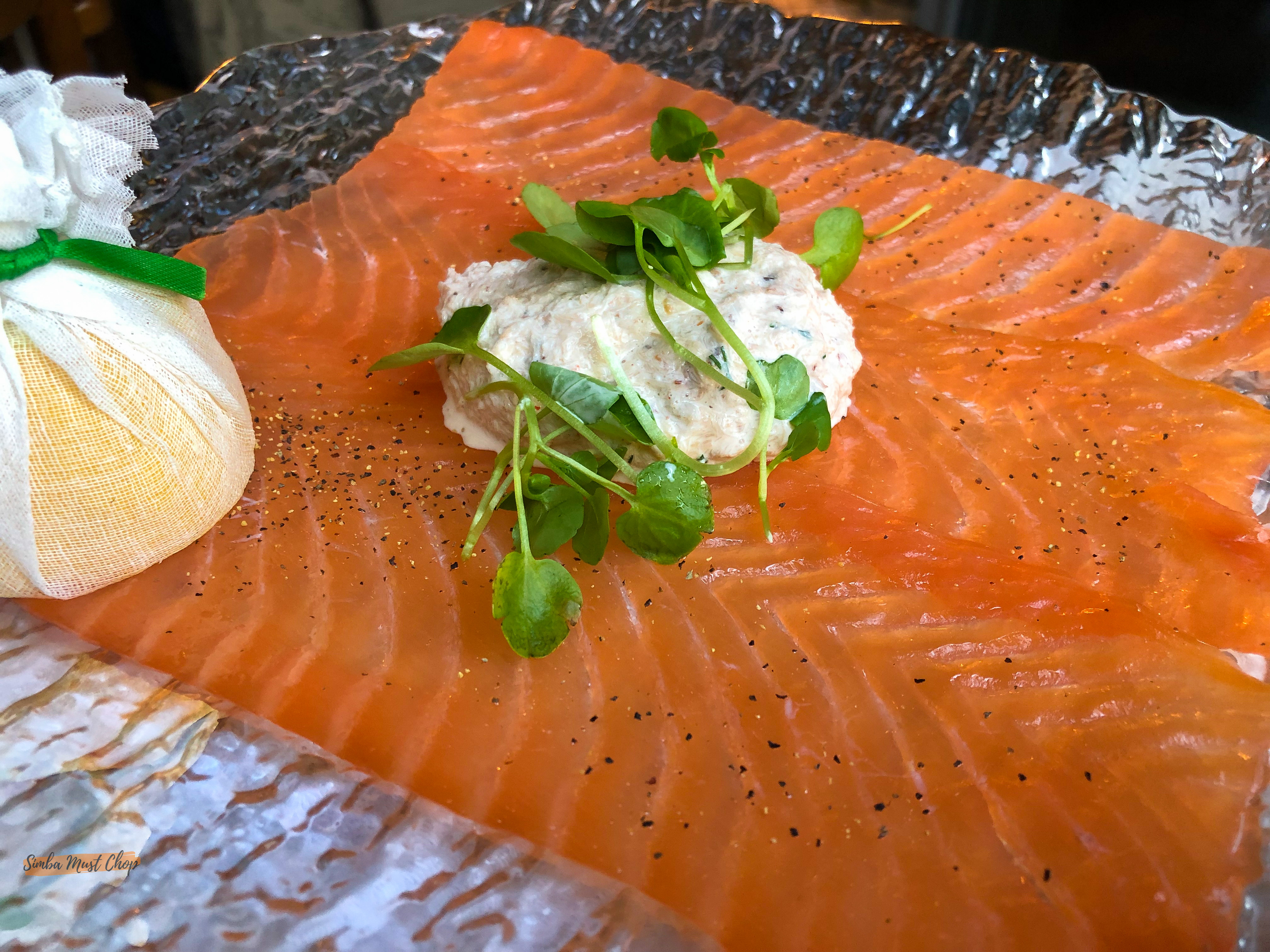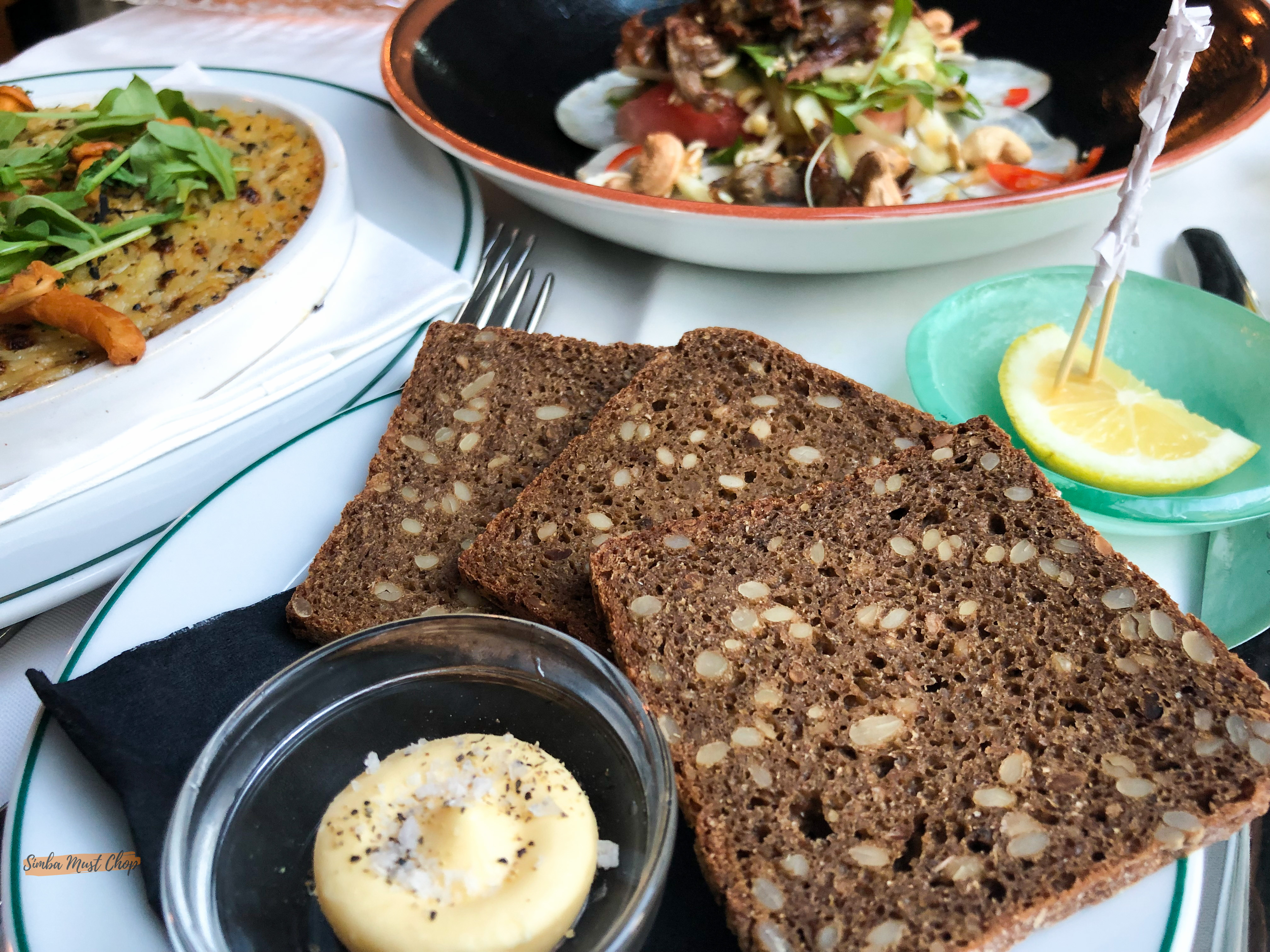 MAINS
Monkfish and prawn curry Keralan curry (£18.50)
Served jasmine rice, coconut "yoghurt", coriander and sweet potato crisps. One of their most popular dishes on the menu but only available of the weekend menu. This curry was so full of flavour and such a comfort meal. The crispy potatoes added a good texture to the dish and in my opinion jasmine rice is always ideal to accompany a good curry.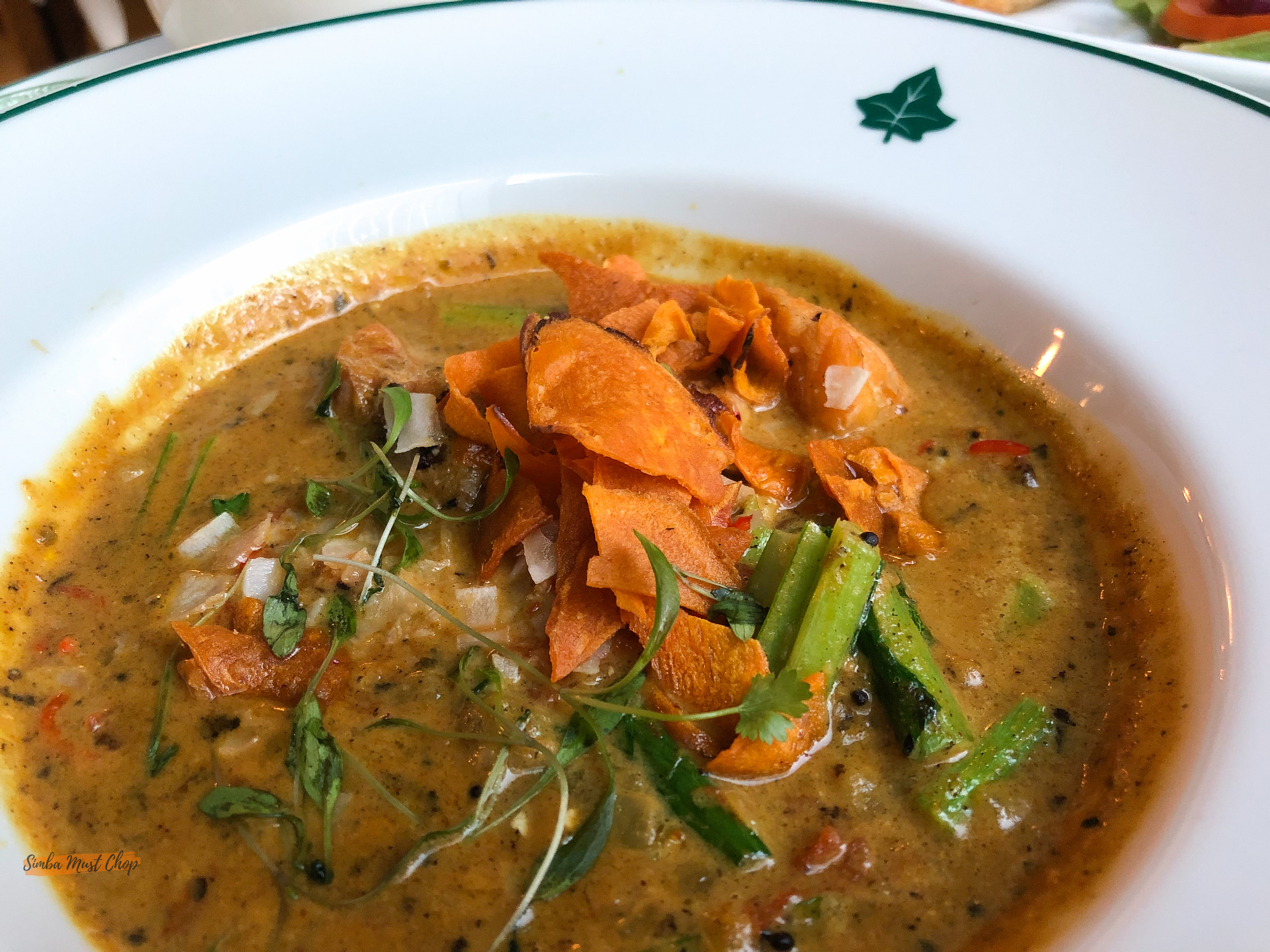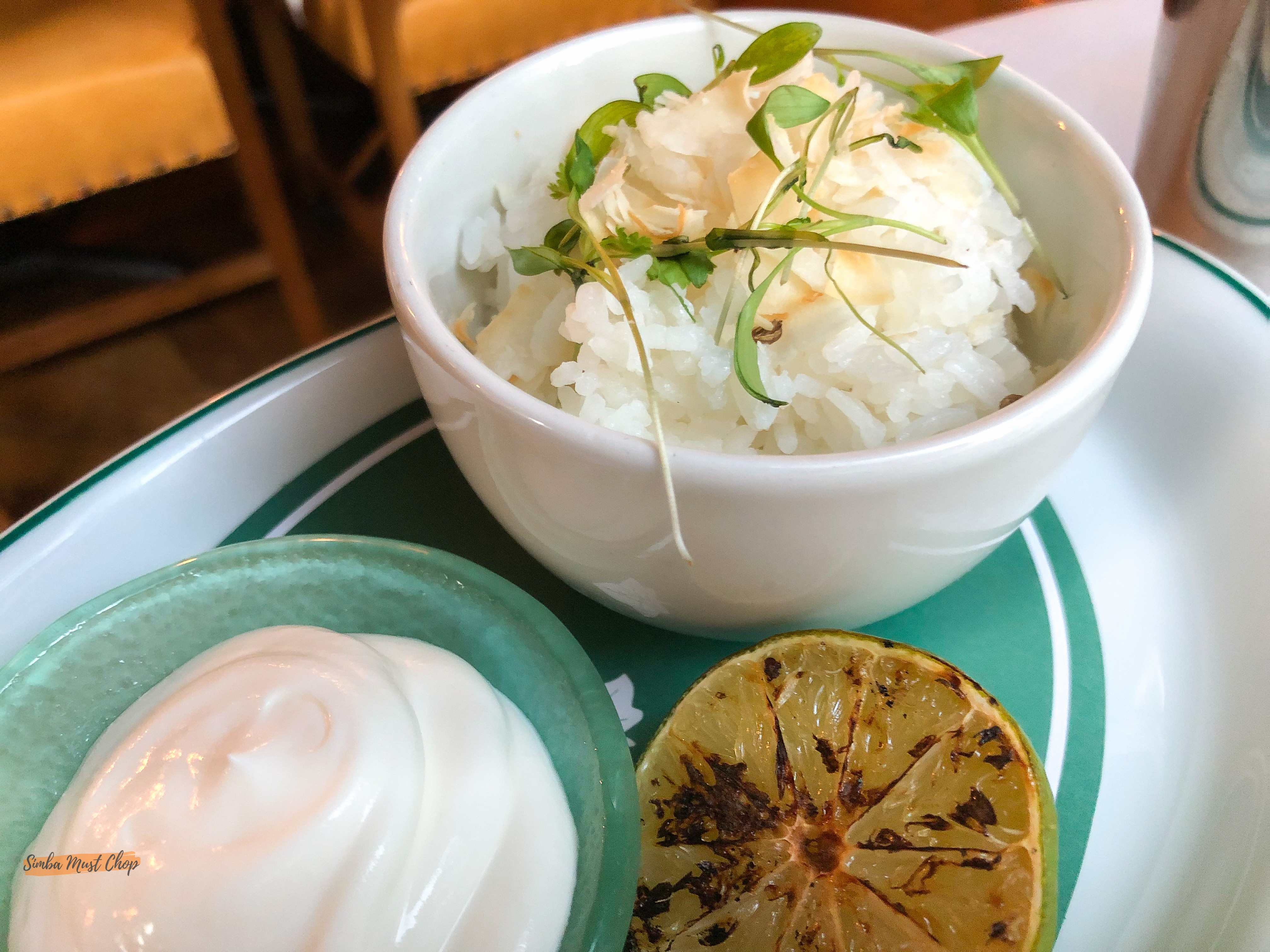 The Ivy hamburger (£14.75) | Not pictured see video click here
Chargrilled beef in a potato bun served with mayonnaise, horseradish ketchup and thick cut chips. You may add West Country Cheddar (£1.50) or replace the chips with Truffle Parmesan chips and pay the difference.
Truffle Parmesan chips (£4.75)
My companion opted to replace her chips with these and I was low-key happy. Happy because these chips right here are a weakness of mine and I have to blame it all on that Truffle. So it's obvious I tasted the chips and just as expected, DELICIOUS.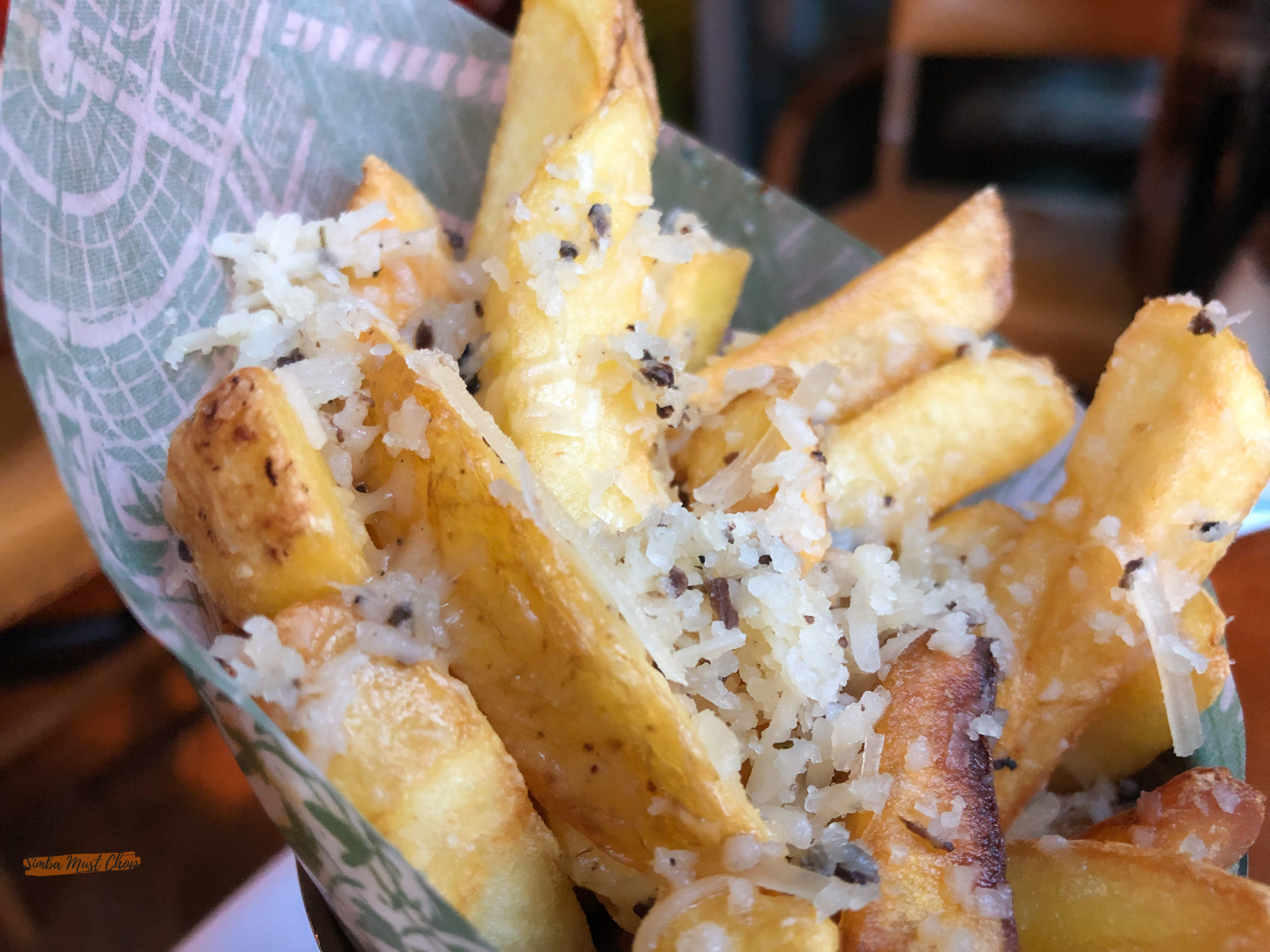 After indulging in all that goodness I was stuffed and any 'normal' human would stop at that and call it a day. But me being who I am, I always have room for a DESSERT. Without a dessert my mission is incomplete and its simple to understand "Simba Must Chop!" 😀 And as for my companion, I thought after indulging in that huge juicy burger she would back down. My girl said "It's team work and we only have one job to do. TO EAT! Oya Let's chop" Talk about "Lunch date goals" Ha ha ha…
DESSERT
Apple tart fine (£7.95)
It's a Baked apple tart served with vanilla ice cream and Calvados flambé. ( You should see the video footage of that flambé here )
We had to wait a few minutes for it to be prepared and we did get a little impatient at some point but it was all worth the wait considering we were both "mid food-coma" 😀
This just might be the best Apple Tart I have had to date, the warmth of that Brandy together with that subtle crunchiness on the edges and the bonus smoothness of the vanilla ice cream was all worth getting into a "Food-Coma" for. We were literally stuffed to the Maximum. Lord!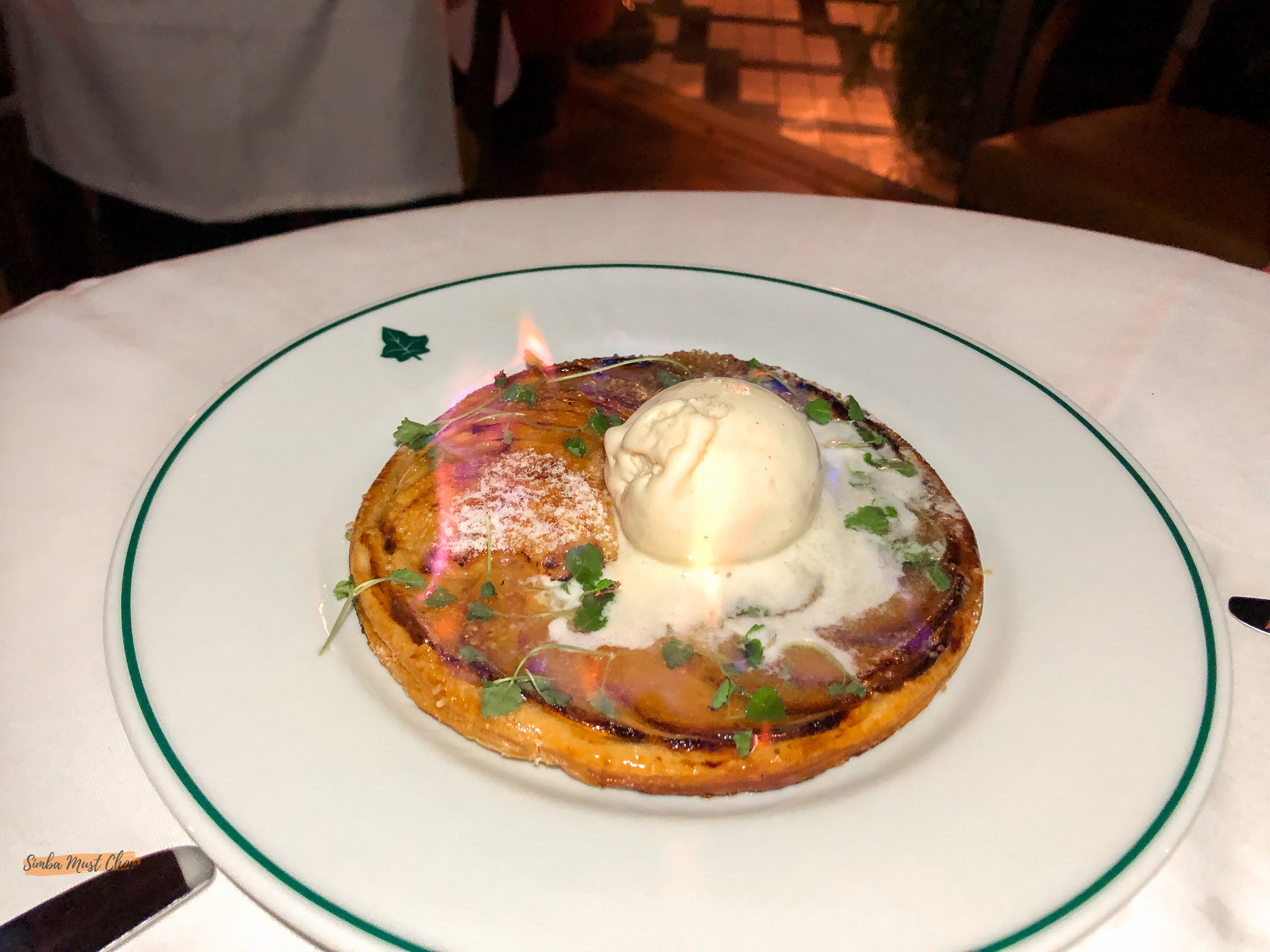 Overall
We both had an amazing lunch, thanks to the staff who were so lovely. All our food came out on time besides our dessert which took slightly longer because of the preparation (worth it).
I have to also highlight the hallway towards the washrooms smells so fresh and the washrooms are well taken care of.
On my next visit, I hope to find the Halibut as the fish special of the day.

Would I go back? Yes
Follow them, try them:
Rating
4.5 out of 5
Food

Staff

Decor

Price

Average