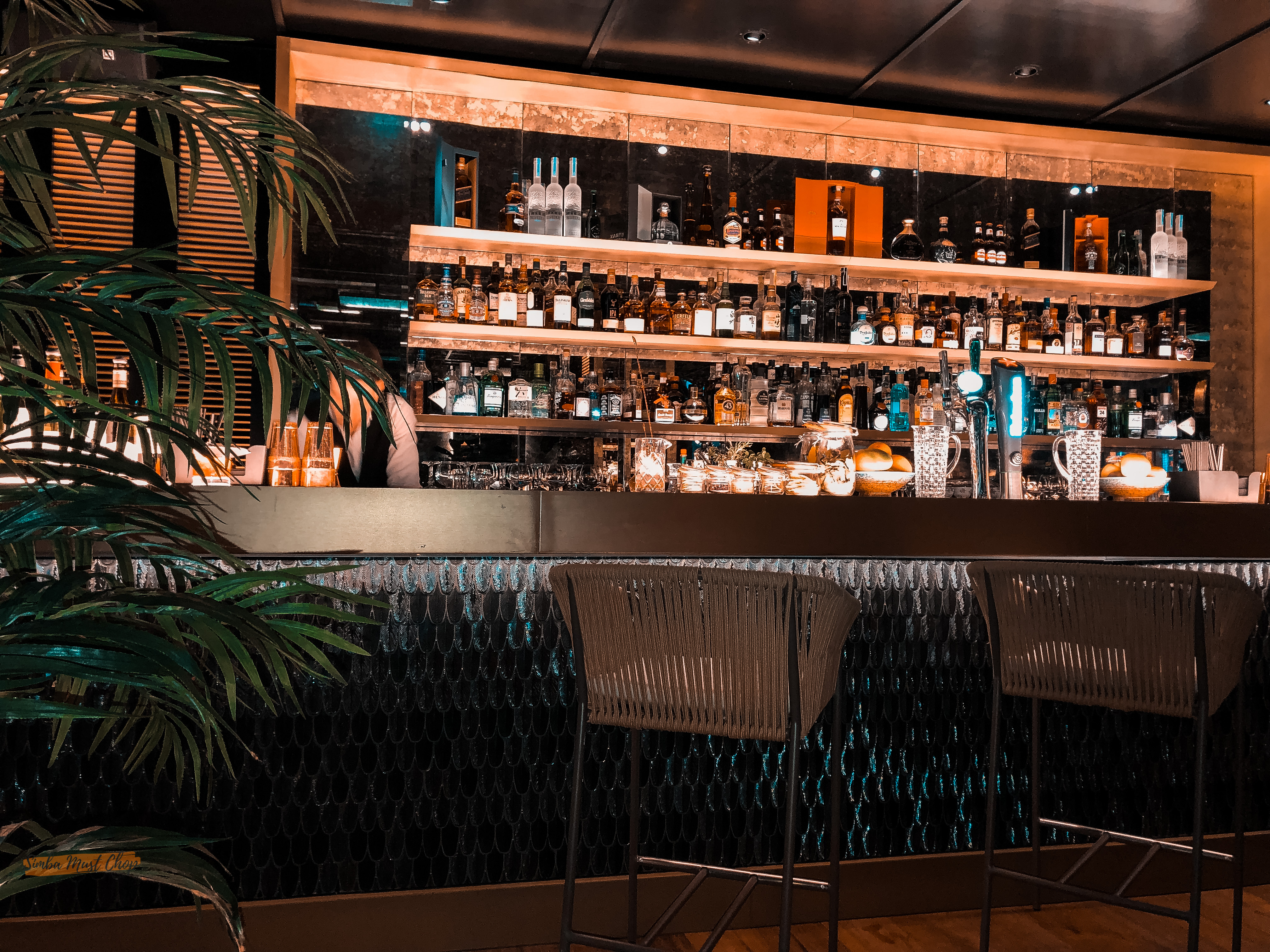 Looking for a new restaurant to visit? Why not give ZELA London a try. I visited this restaurant for the first time on a Saturday evening and it was amazing.
Situated at the ME Hotel right next to STK is the Ibiza-Born new restaurant that opened on 1st October 2018 in the heart of London taking over what used to be Cucina Asselina. The restaurant is owned by the Mabel Hospitality Group that also owns ZELA Ibiza which opened last year 2017.
ZELA London Is backed by their VIP business partners, footballer Cristiano Ronaldo, musician Enrique Iglesias, tennis player Rafael Nadal & basketball player Pau Gasol. ( I don't know if you are wondering who Pau Gasol is but I had to visit my bestie 'google' for some answers and I learned that he is a top Spanish Basketball Player.)
ZELA London is offering a rather interesting Japanese-Mediterranean cuisine which their Michelin-starred Head Chef Ricardo Sanz calls a "Meppon" cuisine which he describes as Japanese techniques & flavours applied to Mediterranean ingredients & traditions. With Mediterranean you will expect a lot of fresh fish & seafood dishes on the menu like their Signature Dishes Tiradito of scallops with Ibicencan sobrasada and butterfish nigiri with white truffle among others. Their cocktails also consist of Japanese ingredients and a touch of the Mediterranean like their Signature Cocktails Santa Maria made with Sherry wine-spicy homemade mix-tomato juice-yuzu juice and Harakiri made with Sake-lime juice-shiso syrup-egg white and not forgetting their famed Coco Chanel made with Vodka-Fresh Lychee-Raspberry Liqueur-grapefruit-simple syrup.
The restaurant is open all throughout the day from as early as 6:30am for Breakfast, Lunch and Dinner.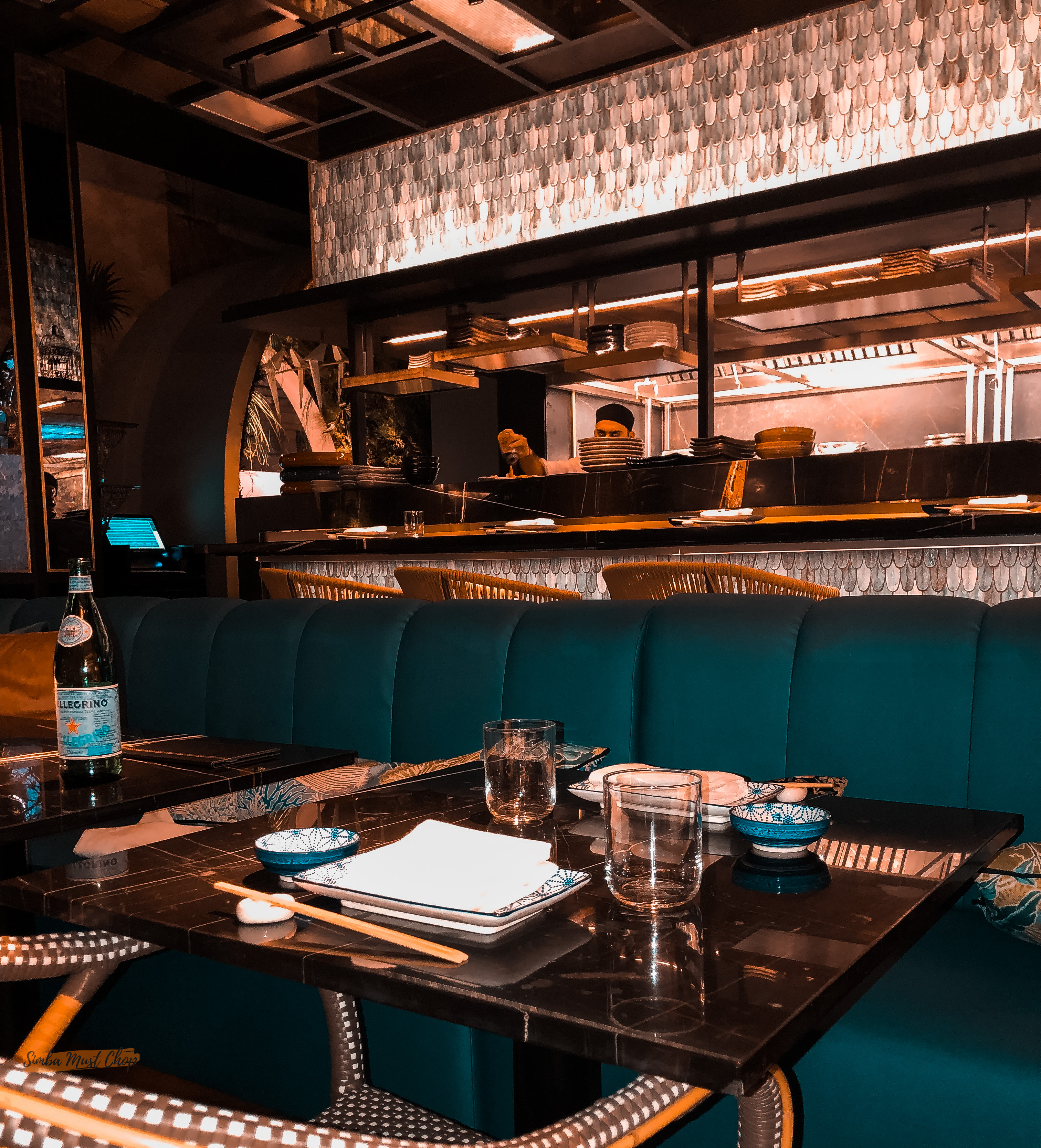 As you approach the entrance you're hit with a tropical vibe from the greenery décor right by the reception desk with a backdrop of the outstanding ZELA Ibiza wall-mount logo (Perfect for that Instagram photo) The ladies at reception are very welcoming and they didn't keep me long before walking me to my table where my companion was already waiting for me with her glass of Pazo Barrantes Albarino. The tropical décor carries on to the restaurant interior with hanging Palm tree leaves, extended leaves around the window frames, bamboo furniture, beautiful bar setting, visuals of the semi-open kitchen and let's not forget the Live DJ.
The lady DJ played electric music throughout the night giving that extra tropical atmosphere.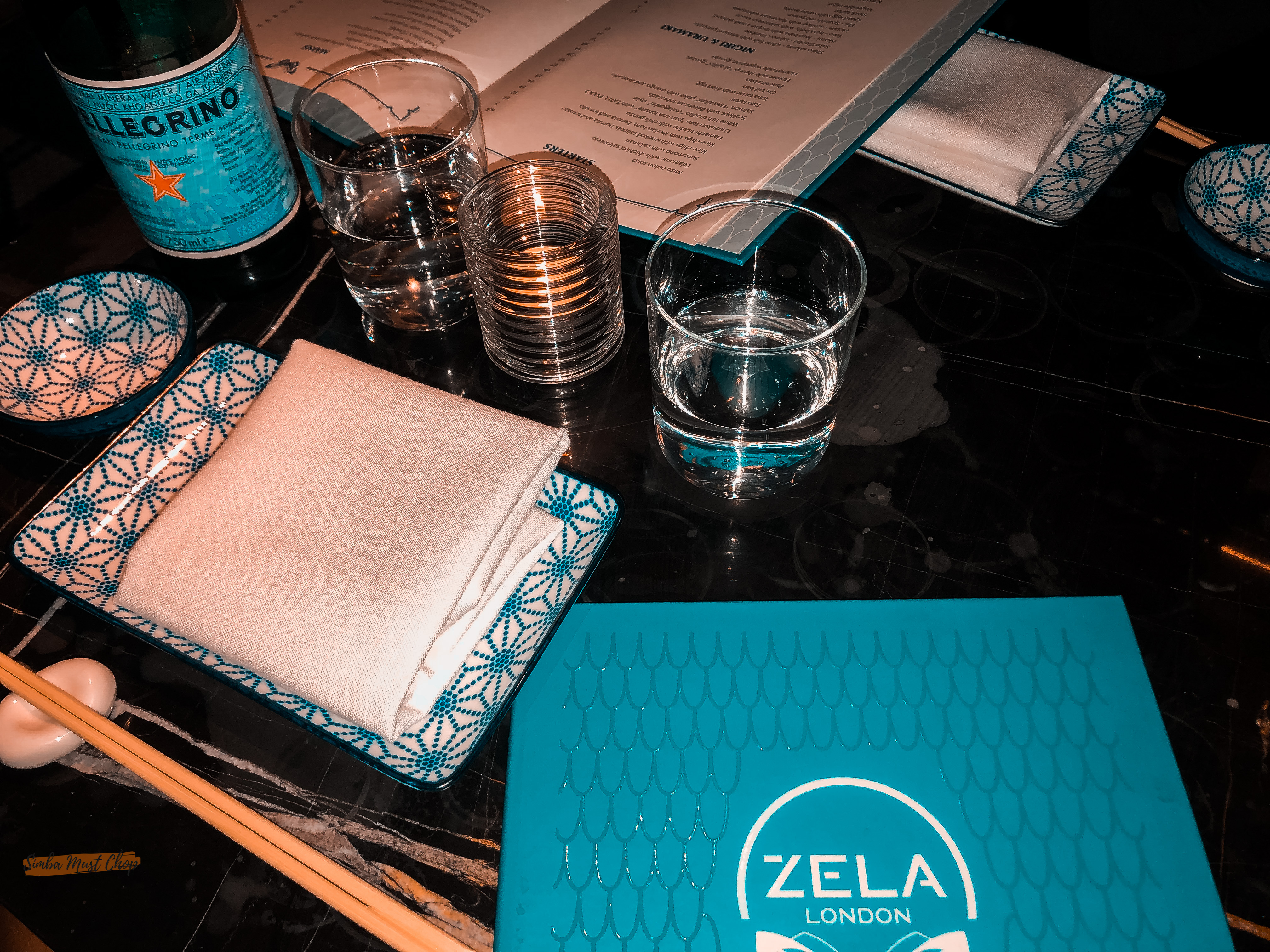 Having two food lovers at one table meant we were about to go into a FEAST MODE. While carefully going through the menu with an extra helping hand from the staff, we opted for a bottle of San Pellegrino still water (£5.50) for the table. And then followed by cocktails, wine and our long list of starters.
starters
Edamame (£5)
Served with shichimi salmorejo. It's always a nice way to start off a meal and these were steamed perfectly, the dipping sauce was flavourful and we couldn't have enough of it.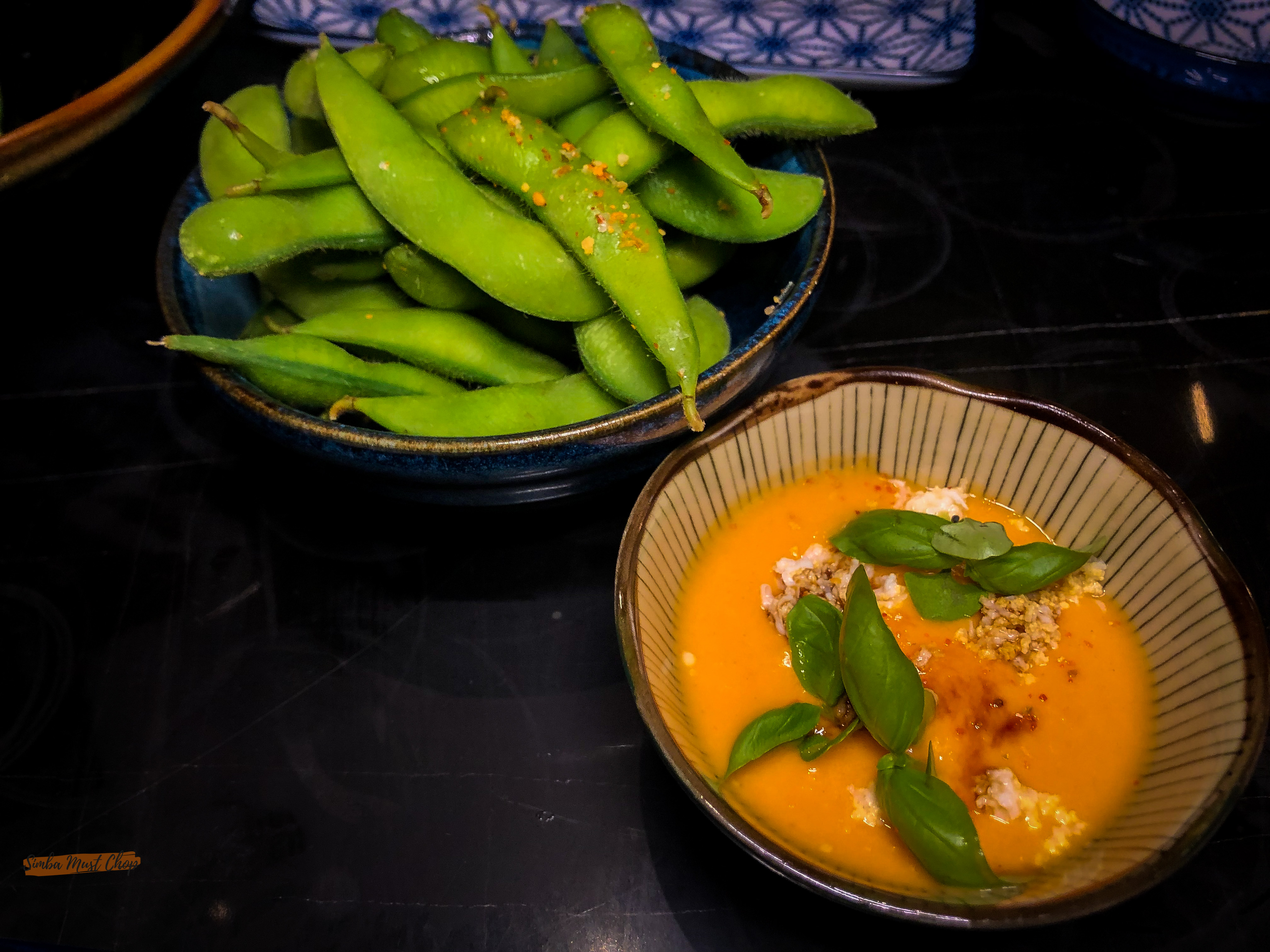 Rice Chips (£12)
Topped with salmon, burrata and tomato. I loved the crunchiness of the rice chips which had a sprinkle of tomato powder, the combination & texture of salmon and burrata was an absolute bonus.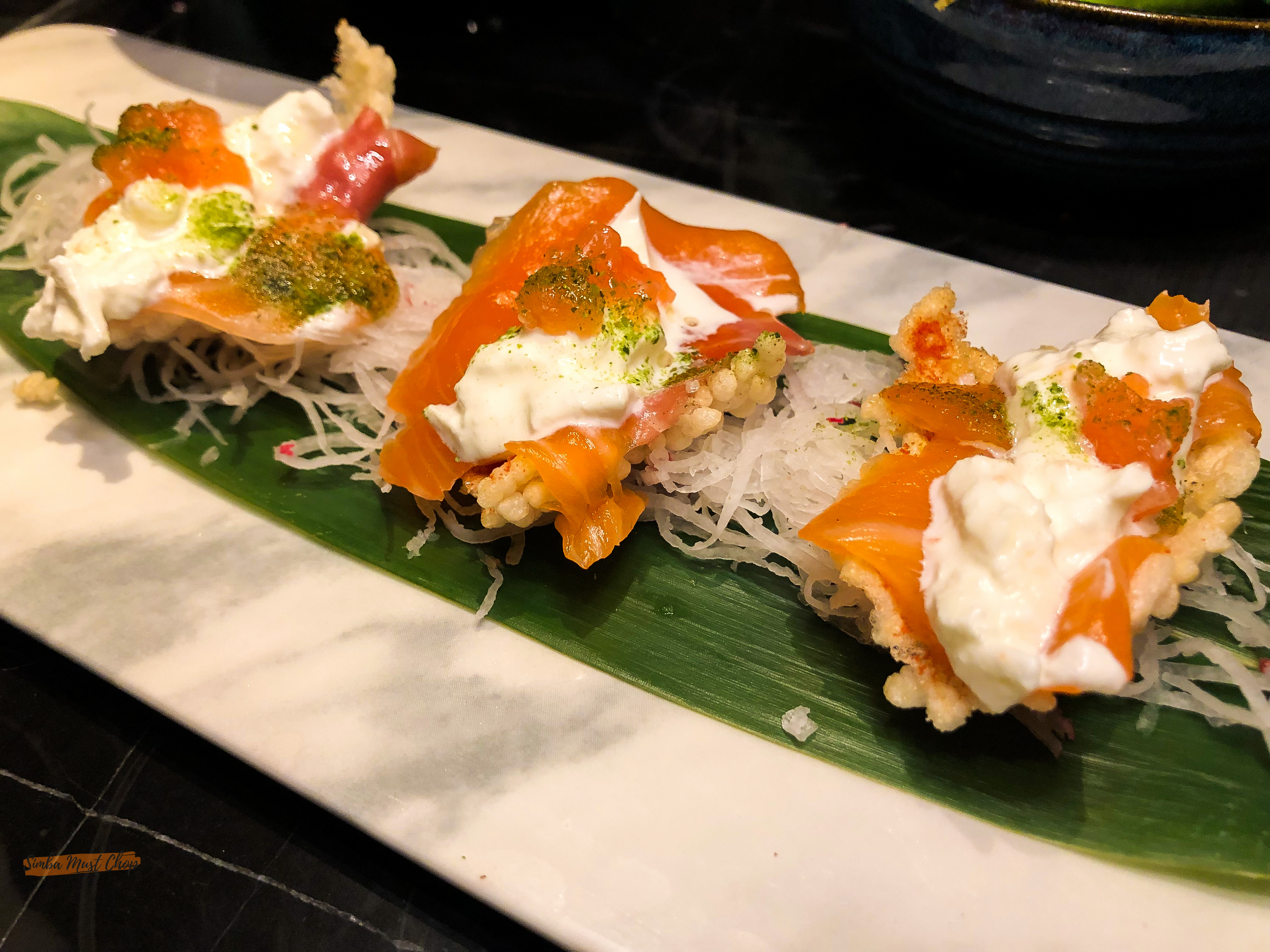 Scallops (£17)
With Ibicencan sobrasada. Being one of their Signature dishes, it's presentation said it all. With that LED light glowing through the crashed ice topped with that shell, it was a beautiful sight. Now when it comes to raw scallops I am not a great fan I tasted some of it. The little that I had was enough to know that Raw scallop lovers would indulge in this dish and my companion proved me right. 😀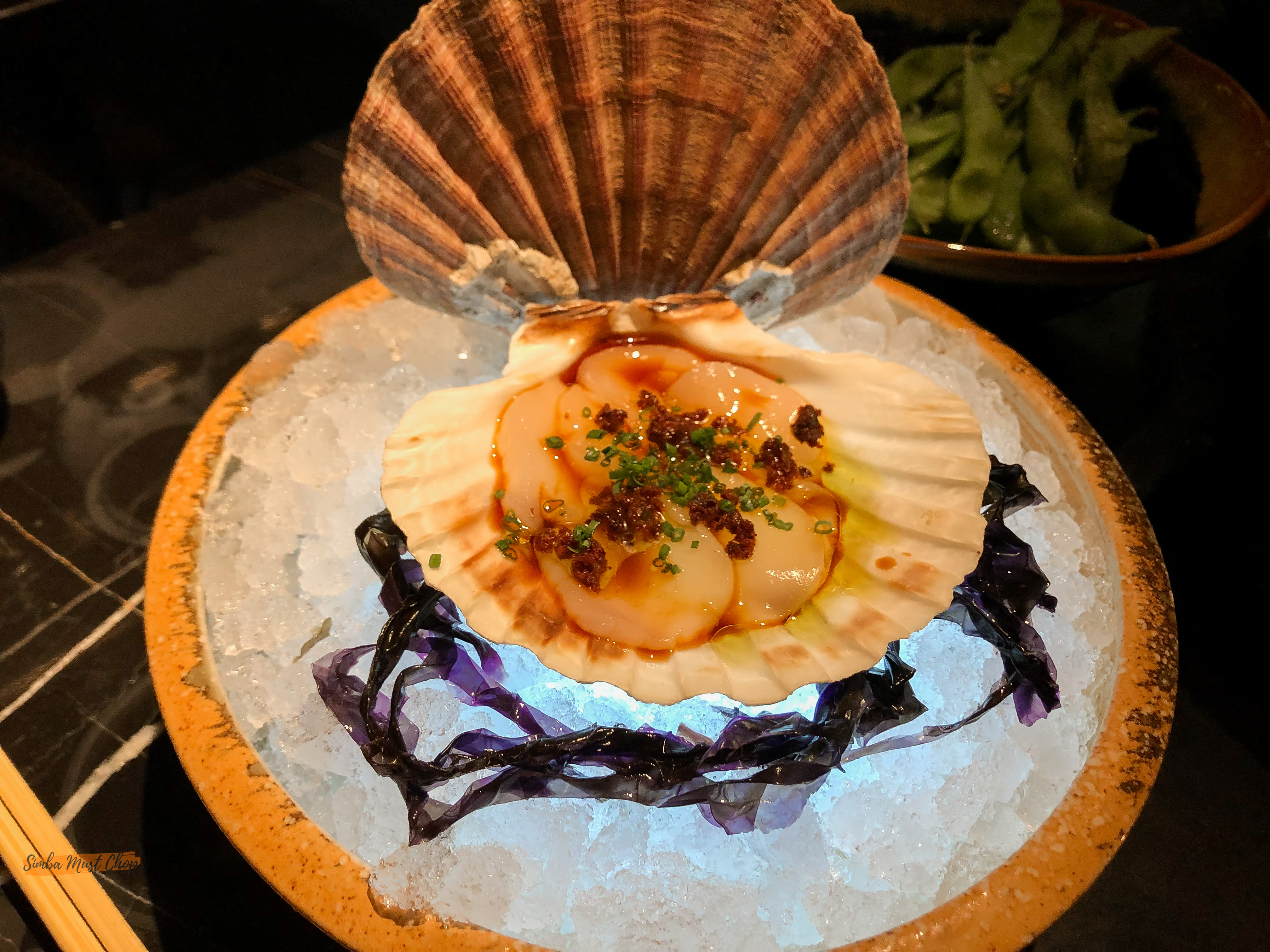 Hamachi Tiradito (£14)
With chilli ponzu. This in other words is Yellowtail Sashimi. Again consuming Raw meats or fish is a little challenging for me but I always have to try. I actually liked this more than the scallops and I think it was down to the texture with the hint of the chilli.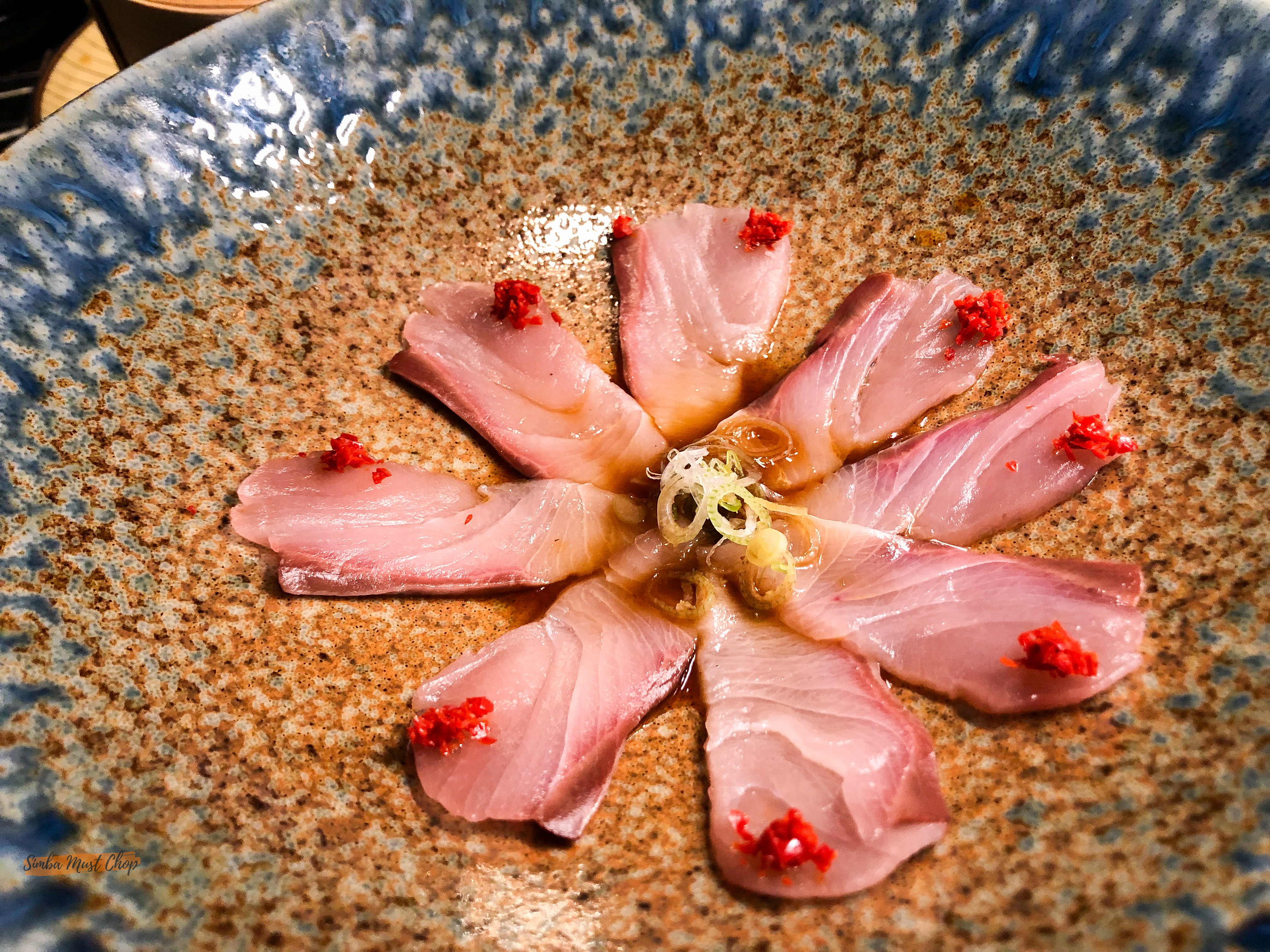 Sunomono with Calamari (£11)
This was easily one of my favourites, it was finely chopped, nice and crunchy yet soft paired with the delicious sunomono. Sunomono is a Japanese cucumber salad marinated in vinegar, sugar, salt and soy sauce that has a sweet & sour taste to it.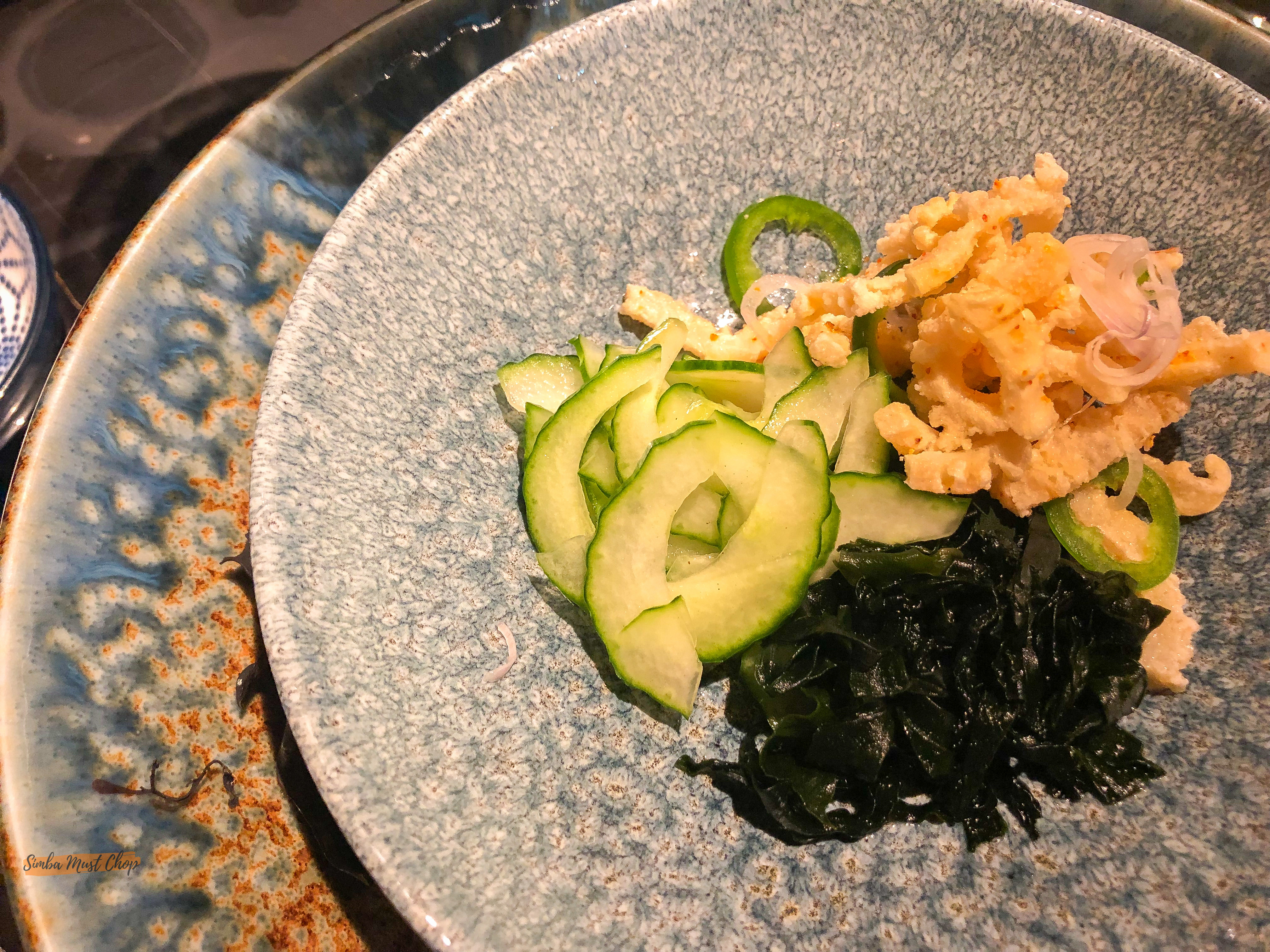 Homemade Shrimp Gyoza (£14)
Gyoza is always a good idea and these were delicious, the shrimp was nicely seasoned.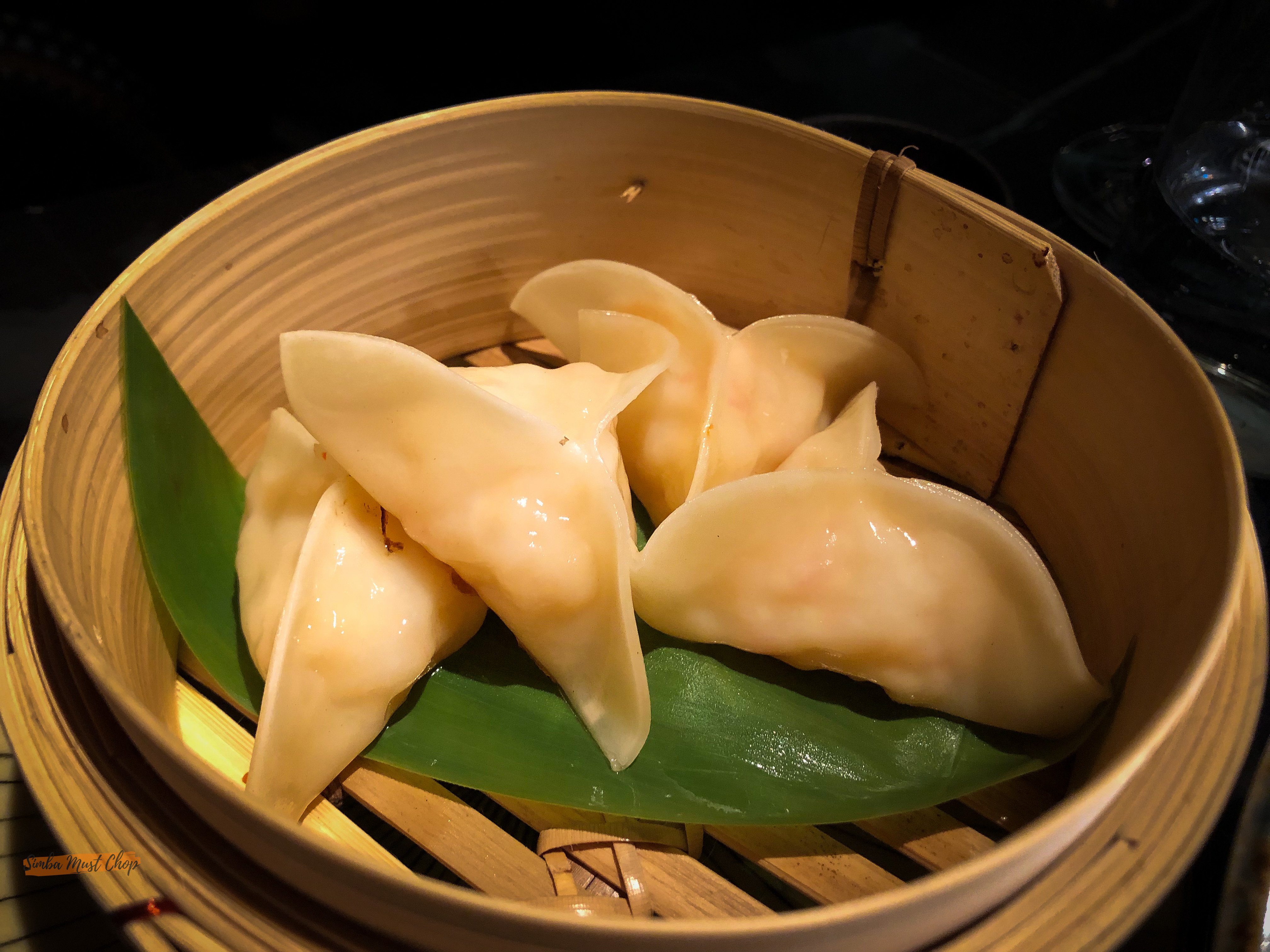 So with 6 starters done, it was time for us to move onto other sections of the menu as well as the wine & cocktail menu.
Drinks
Pazo Barrantes Albari (£8)
My companion ordered herself another glass of this. I am not a wine connoisseur but I loved the aroma of her wine. I guess wine lovers would know better.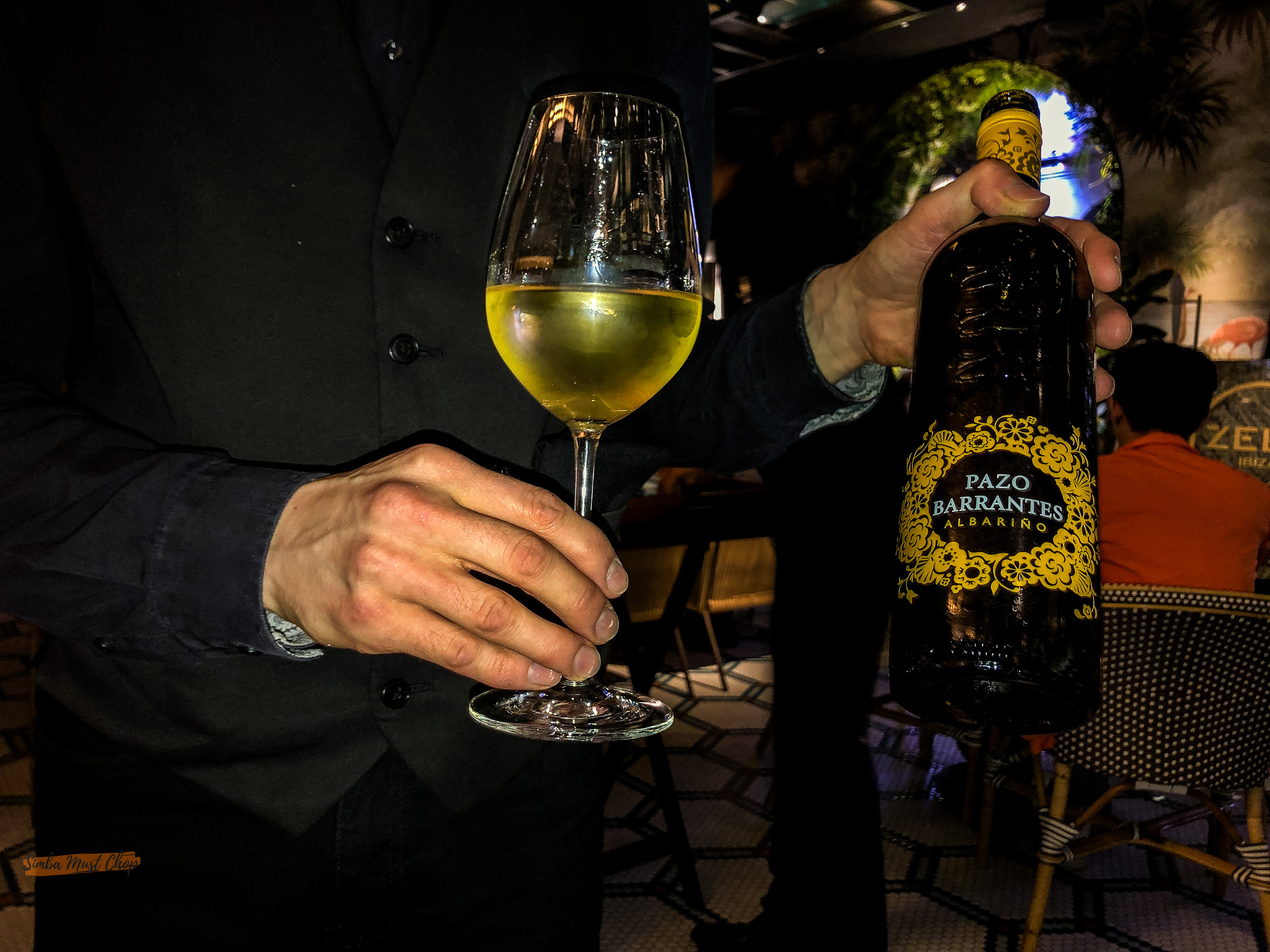 Hikoki aka Aviator (£12)
Made with Gin-Lemon juice-violet shrub-Marraschino liquer-sisho syrup. I loved this beauty of a cocktail. It is presented covered with a clear glass vase filled with smoke. On arrival the vase is lifted off filling the atmosphere with a light smoked woody aroma which compliments the notes of this cocktail.We both had two rounds of the Pazo Barrantes and Hikoki and we loved them.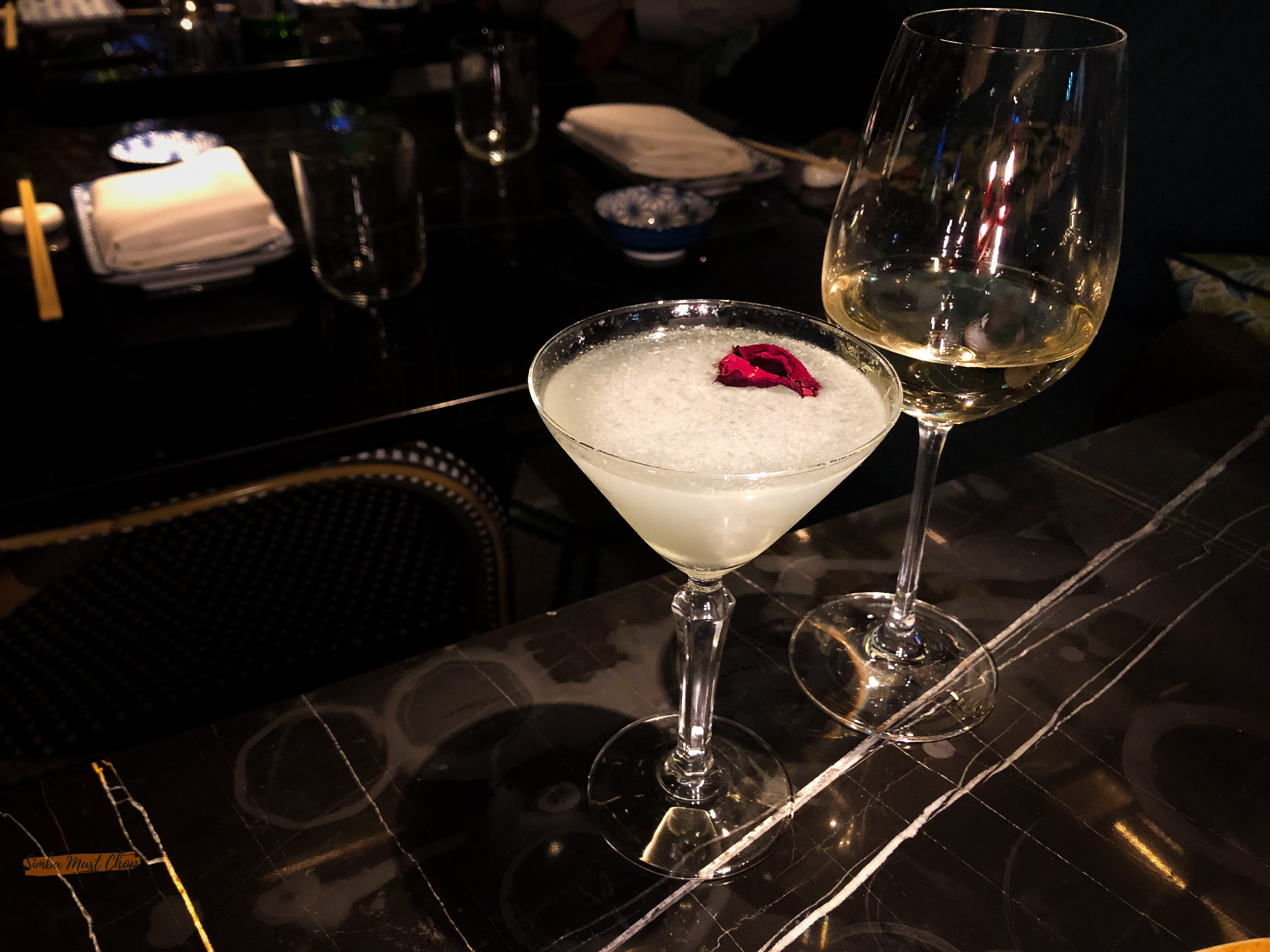 Coco Chanel (£12)
Made with Vodka-Fresh Lychee-Raspberry liqueur-Grapefruit-simple syrup. The name, ingredients & appearance say it all. This was such a delicate and delicious cocktail.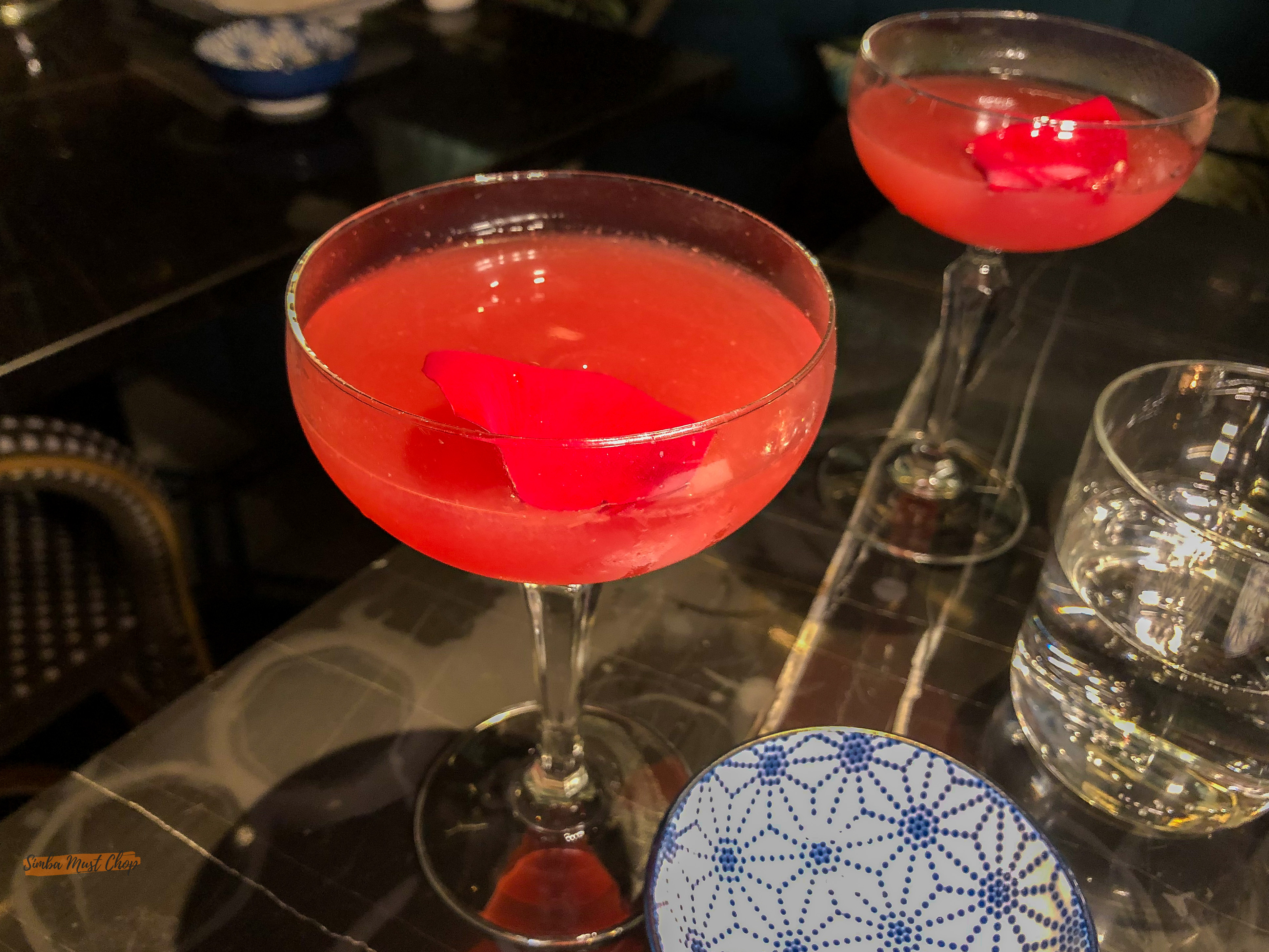 And then we resumed with the eating. We got adventurous and tried to order at least one item from each part of the menu.
SASHIMI
Oyster with Ponzu (£5)
Another beautiful presentation similar to the Scallops. This was for my companion and in her own words she said "this feels like an Orgasm" *covers face* I guess this explains it all for all of us. 🙂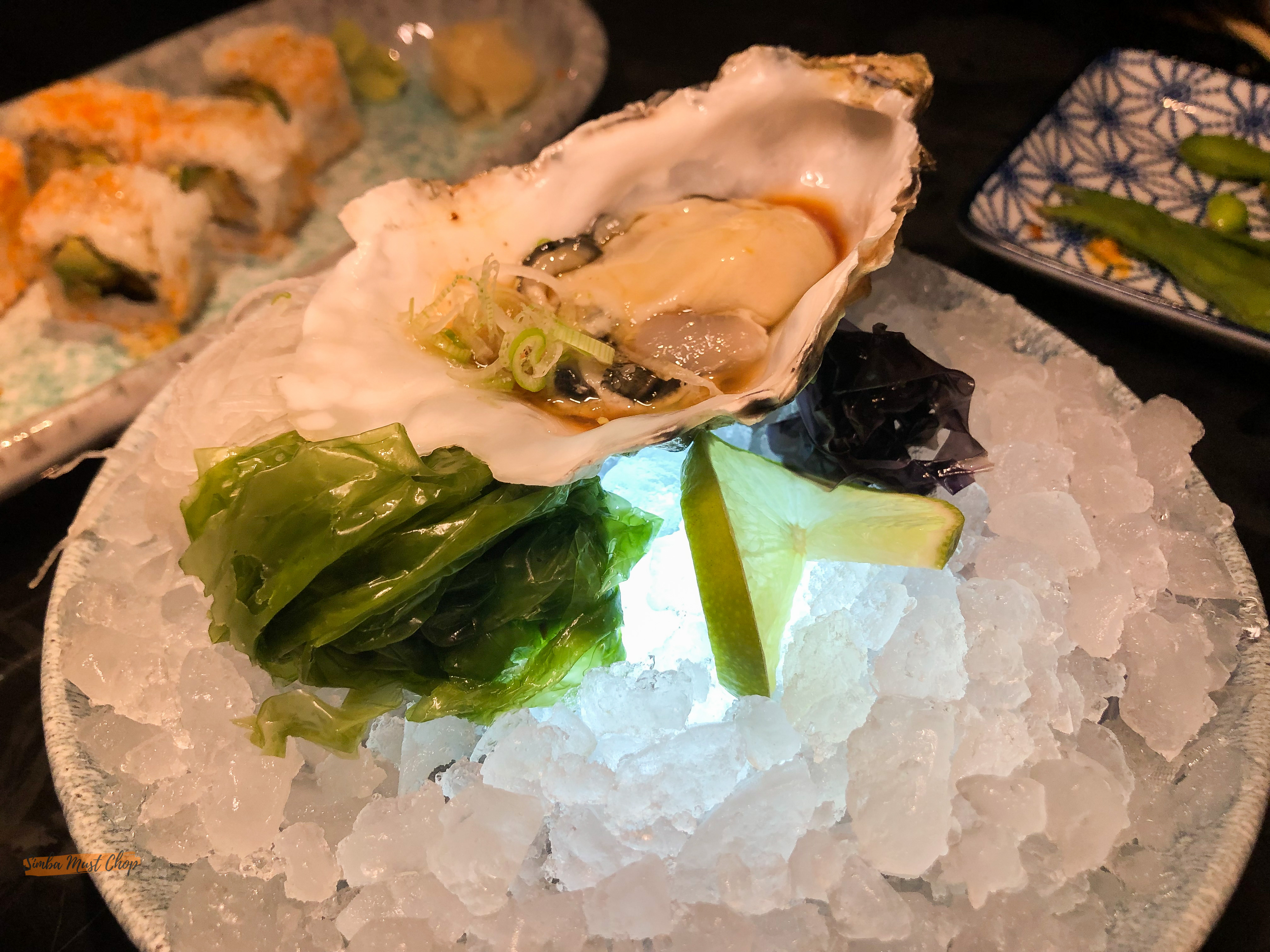 URAMAKI
Shrimp Tempura (£12)
This shrimp in tempura with avocado was yummy but a little dry for me and it's after I mentioned it to my companion that I realised that they forgot to give us some soy sauce to dip. Other than that, it is tasty.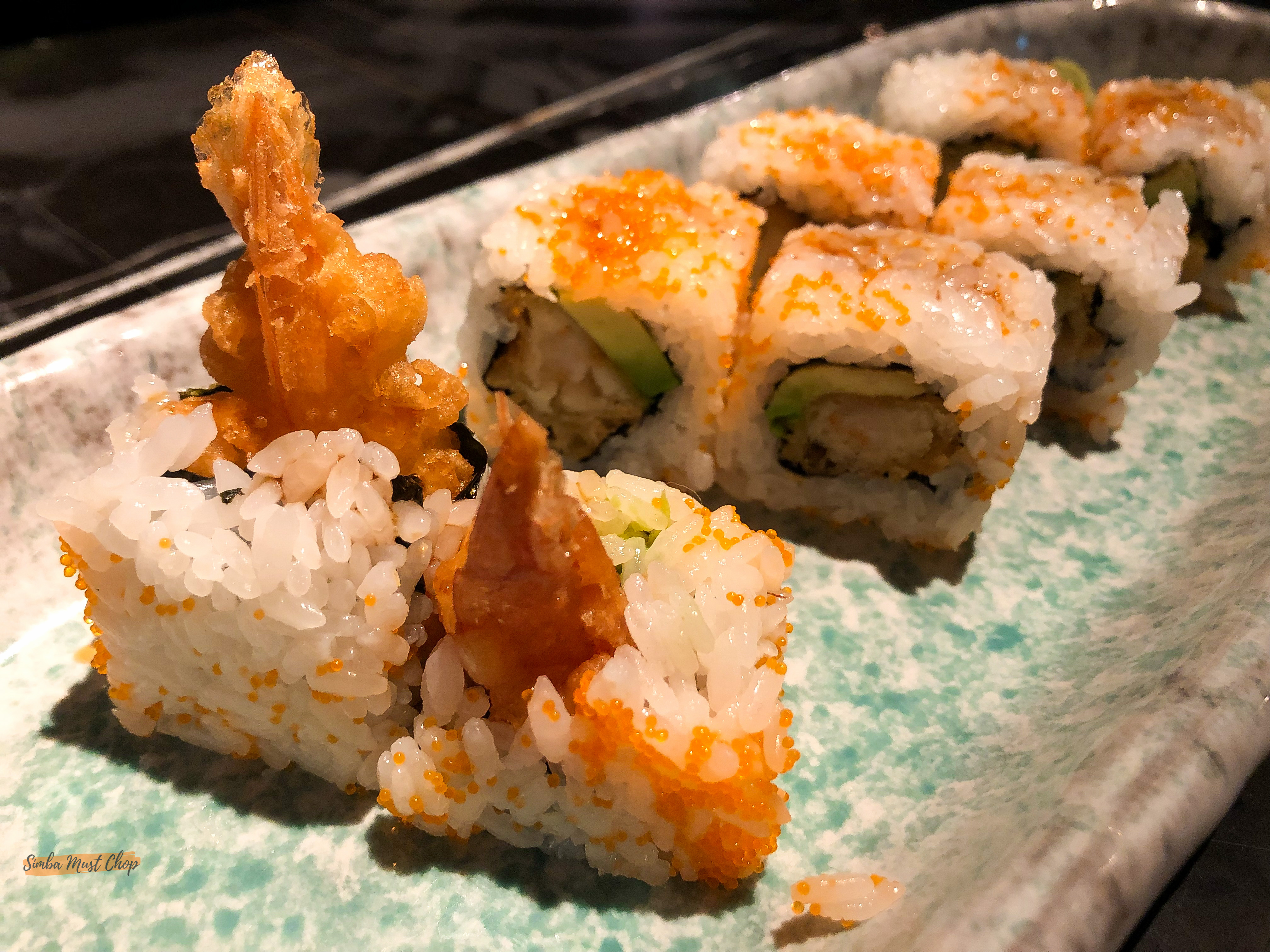 NIGIRI
Ebi – Spanish red prawn (£7)
We had to make decisions on who was eating what, and I strongly suggested I ate the tail part (I know I know the most delicious one ha ha ha) Did we both enjoy it? Yes! Delicately plated and presented, it was clear to see that this was a special prawn.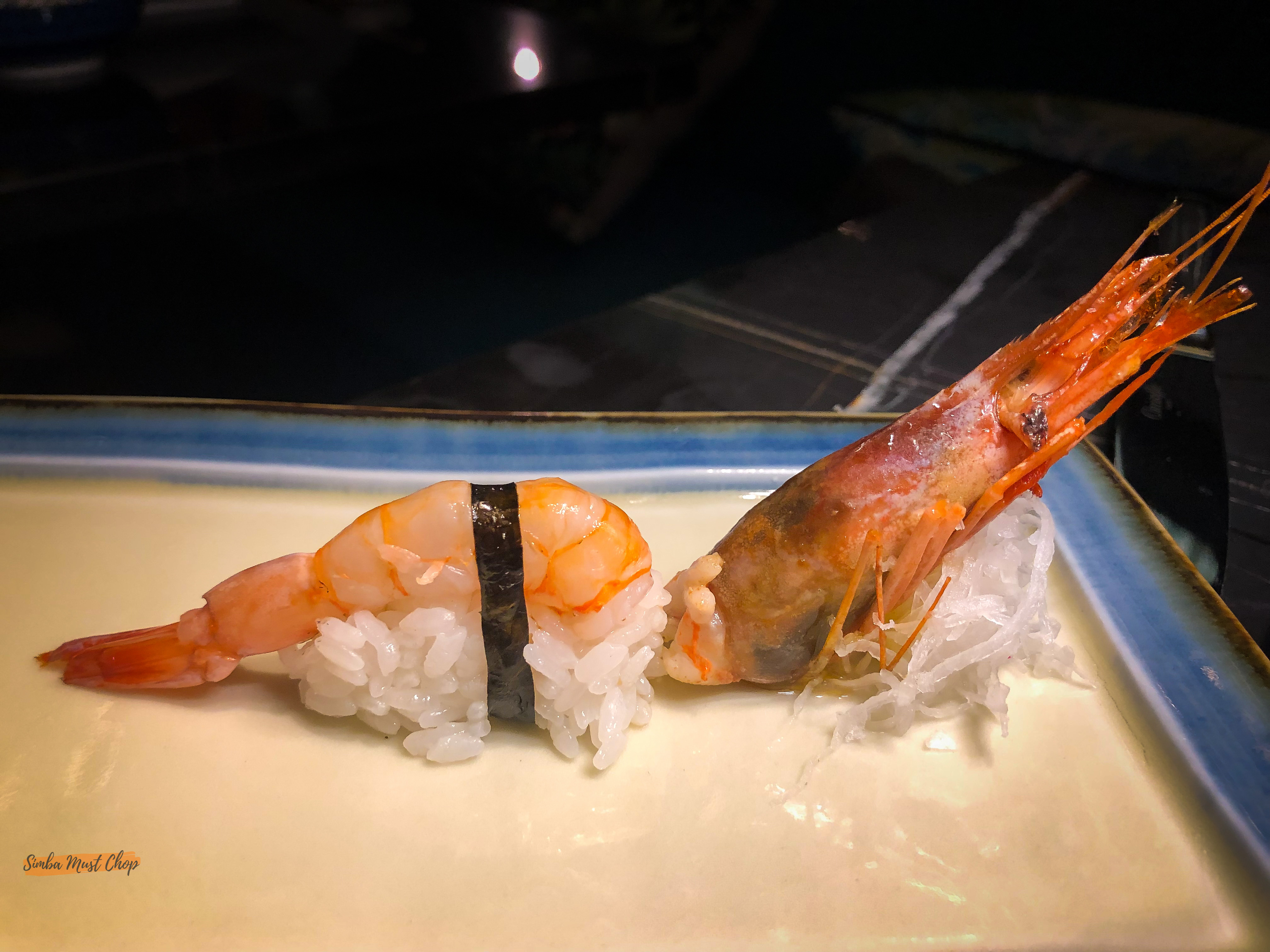 Quail Egg with White Truffle (4.50)
This little cutie topped with caviar was eaten by my companion. In her words "This smells so good and the tastes even better, do you want some?" Asking me if I wanted some yet she had it all in one go. 😀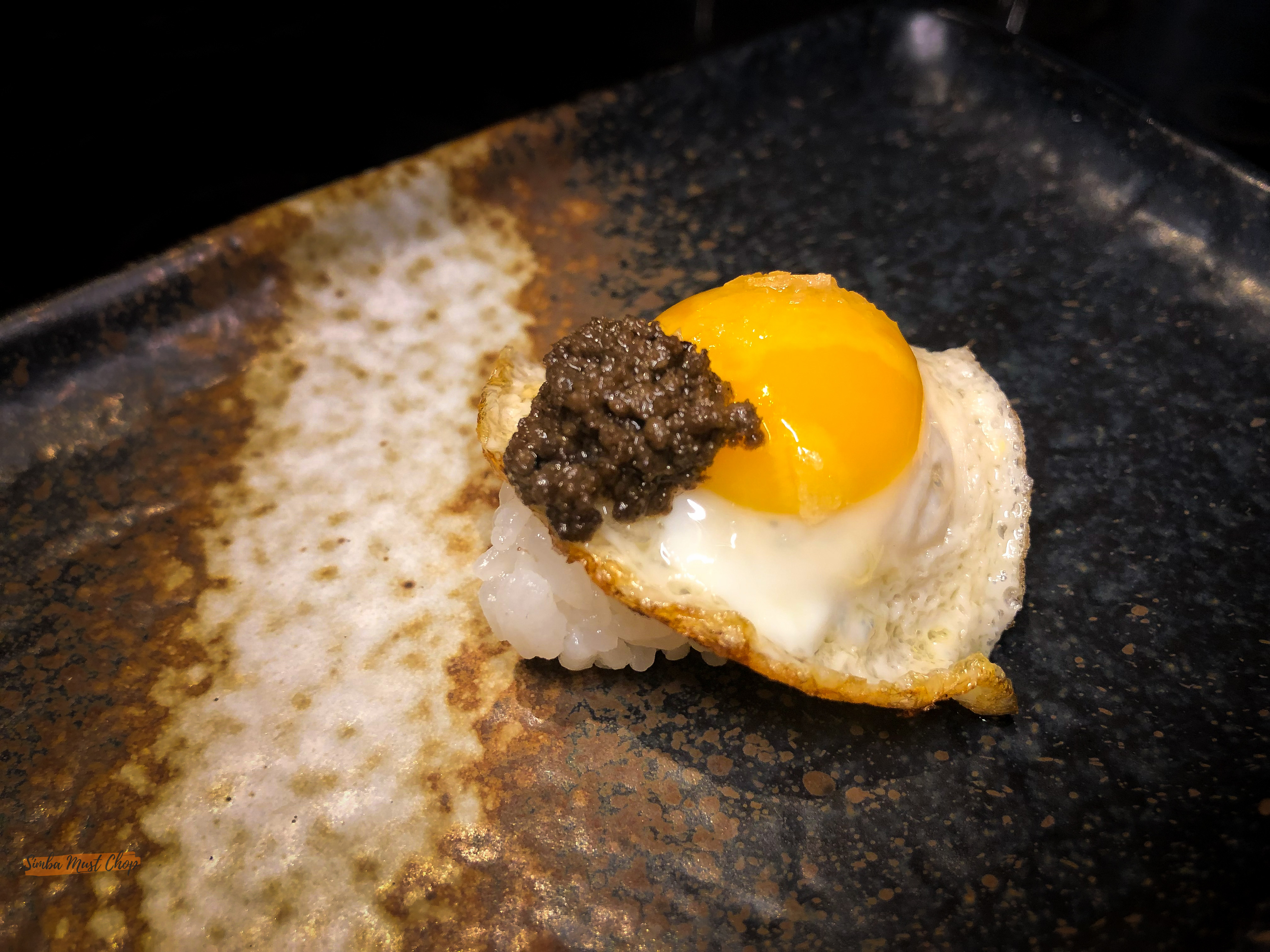 MAIN
Wagyu Teriyaki (£34)
Finally we got to the Main. We shared this extremely scrumptious "Meppon" influenced 48 hour braised wagyu teriyaki. The meat melts in your mouth with effortless chewing. The teriyaki sauce on the other hand compliments the entire dish. Making it one of my favourites on their menu.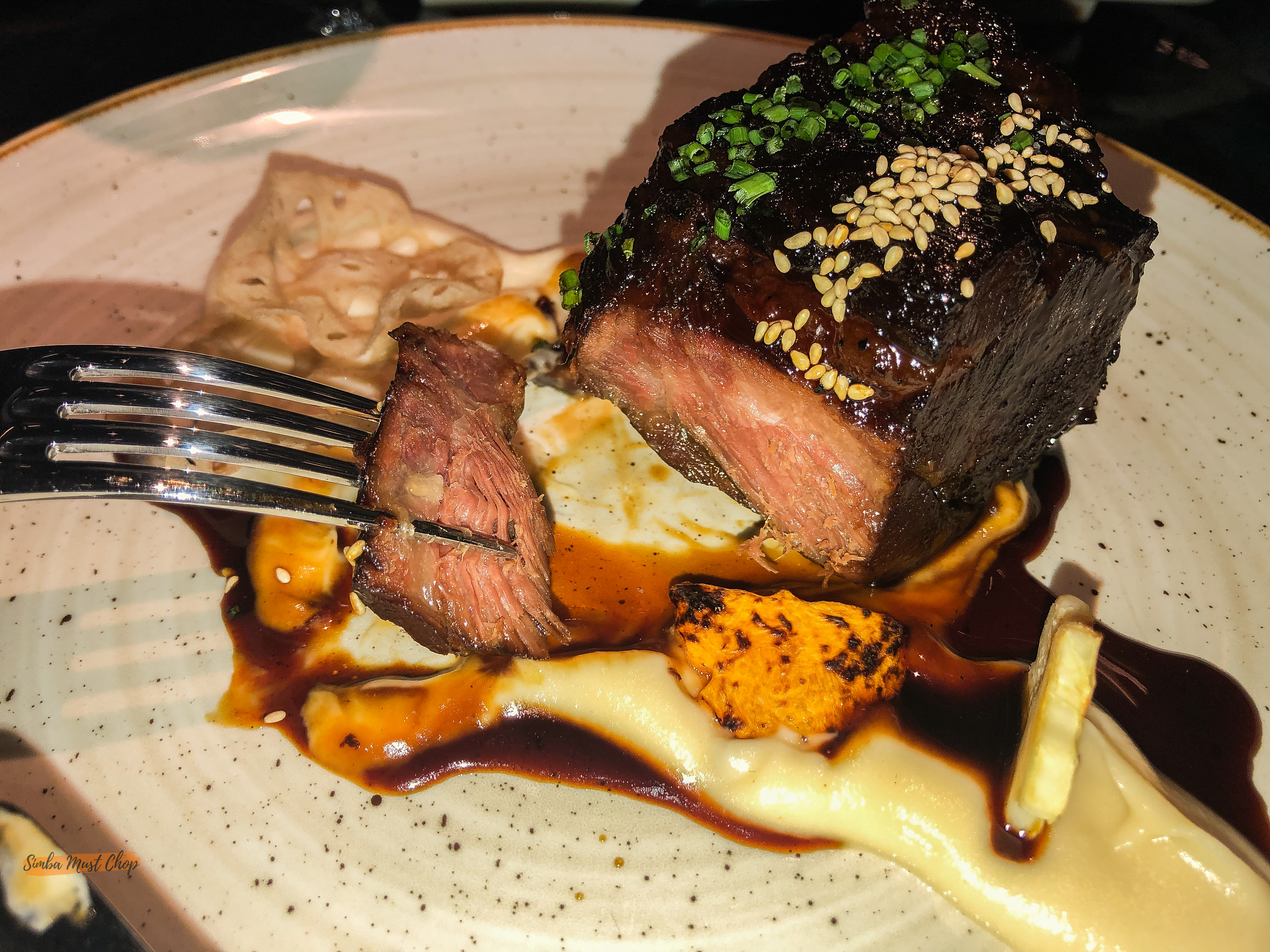 You must be wondering how we were still able to order for a main after all this eating and drinking, but we had to do what we came to do EAT! Because let's be honest, we had reached the maximum level of consumption but when dessert is life, you have to eat it like it's a cure to the stuffed filling that you may already be experiencing. And so we went ahead and ordered for a dessert to share.
DESSERT
White chocolate Cremoso, yuzu & Tahiti vanilla (£8)
This right here is an exotic tasting dessert, those sweet coated pumpkin seeds added a bit of texture to it, with a 'tangy' kind of taste coming from the jelly like sauce. Each ingredient on this plate completed its flavourful taste.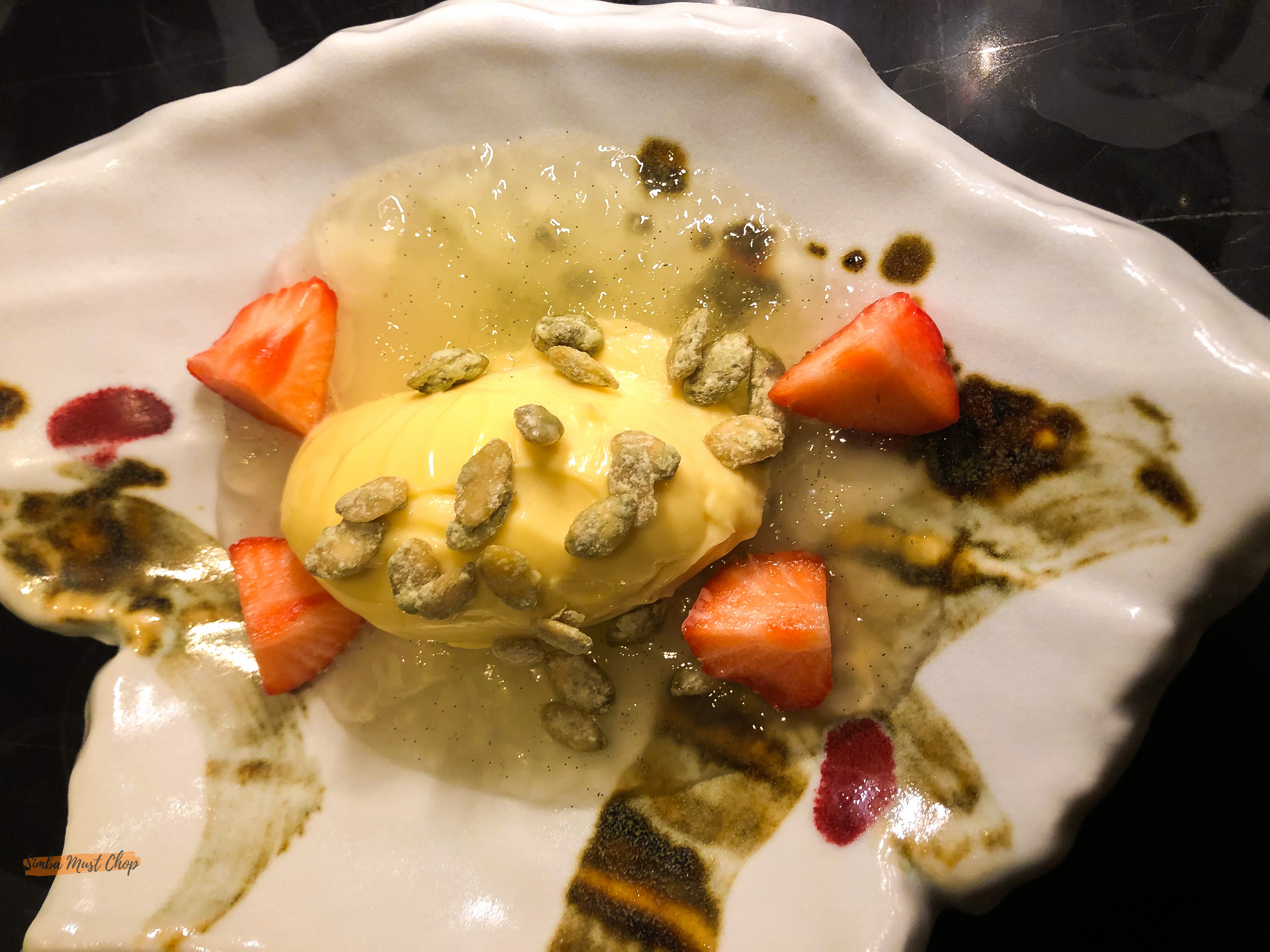 Overall
We didn't know what to expect considering the restaurant was less than two months old, but overall we had a great experience. The stuff were attentive, welcoming and well versed with the menu. We enjoyed the ambiance and great music atmosphere. On my next visit I would like to focus on the Mains Menu and explore their cocktails.

Would I go back? Yes
Follow them, try them:
Website | Email | Instagram | Twitter | Facebook
Rating
4.5 out of 5
Food

Staff

Decor

Price

Average